When Dr. David Healey relocated his family to Tamworth, from Canada, in 2015, it was to continue his career as a leading orthopaedic surgeon and with a renewed lease on life.
It was not intended to be the place to have to fight the incurable Motor Neurone Disease (MND) and in the knowledge that his new lease on life was going to be cut prematurely short.
That is sadly what he is doing with wife Kim and daughters Sarah and Lauren.
Lauren, 18, is running for Team FightMND in next Sunday's Run Melbourne event and has raised over $30,000 for FightMND after being coerced by her father to take part.
David was diagnosed with MND in January this year after noticing some unusual movement and action with his walking pattern (foot drop) in October 2018.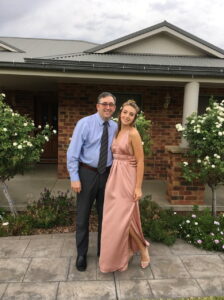 "He felt his heel hit (the ground) on his right foot before his other heel would hit, so he would go heel toe instead of straight-down, so he was listening to himself to himself walk and noticed his pattern was off slightly," Lauren said.
"He had recently been to France and been all cramped up in a little seat and they (doctors) said it was just some nerve damage and it wasn't MND but he knew it was something more than that.
"He went down to Sydney in January and they then diagnosed MND after some further testing."
Lauren recalls that at the time her father was diagnosed with MND. She was heading to Melbourne to study Exercise and Sport Science at RMIT while her sister Sarah was moving to Perth to study Medicine, so he didn't tell his daughters straight away.
Lauren vividly reflects on the time David told his family of his diagnosis.
"He knew that we wouldn't go and follow our dreams if we had known he was diagnosed with MND.
"It was at Easter when we were home and he had two of my uncles and one of my aunts there and I should have known something was up at that point," Lauren said.
"He came into the living room where me and my sister were and he said he has some bad news, and was already crying and my Dad doesn't cry a lot, I've seen him cry maybe three or four times in my life so we knew something was wrong.
"He said he was diagnosed with MND and that didn't mean anything to me, and then he said but we (Canadians) know it as ALS (Amyotrophic Lateral Sclerosis) and that was when me and my sister broke down because we didn't know much but we knew that it wasn't something you wanted to have."
Lauren attributes her involvement in Run Melbourne as part of Team FightMND to her father.
"He told us he didn't us to be sad and there is a run coming up in July in Melbourne and wanted to give us something to look forward to and feel like we could do something," she said.
At the time of writing, Lauren had raised over $32,000 in just over two months of fundraising.
"He told me about FightMND that they had a team in Run Melbourne and wanted me to join.
"He the reason all this money is coming in," Lauren said laughing.
"It's quite out there for me, I am a sprinter, I have a lot of fast-twitch muscles so long distance (5km) is actually quite hard for me," she said.
Lauren initially set her fundraising target at a modest level but admitted to being "shocked" with the response.
"I remember, it was a Tuesday night and I had just started my (fundraising) page and I had set my goal for $700," she said.
"I was a bit nervous and thought I would start it low and move it up. I woke up the next morning, in maybe 12 hours, and I had $2000."
When reflecting on what FightMND means to her and her family, she spoke candidly about something her father said to her.
"I keep going back to the day that he told us and he used FightMND as the beacon of hope. He had to tell us an he had even gone over it with his GP about how to tell loved ones about it. She told him that you can't tell them this without also giving them some hope, without telling them something good as well.
"That was when he told us about FightMND, all the money being raised, the Big Freeze and all the beanies he bought so yes, FightMND has been a beacon of hope for all of us," Lauren said.
(You can donate to Team FightMND at https://runmelbourne2019.everydayhero.com/au/team-fightmnd-)