Adena's letter
My name is Adena and I'm 35 years old. I have a loving husband and two beautiful little children…Amelia is six and Xander is just three.
And I have MND.
Someone else is writing this letter for me, because I can't use my hands properly anymore.
I need a carer to help me shower and dress in the morning because I can no longer do it myself.
Slowly, painfully, this disease is shutting me down. It's taking my life – and taking away everything I love.
Before MND, I was a pretty active outgoing, positive person. Never afraid of getting my hands dirty. But above all, I was fiercely independent. I loved dirt bike riding, wake boarding, running and working out.
But now that's all just a memory.
These days, the list of things I can do is getting shorter, and the list of things I need help with is completely overwhelming.
I'll never forget the moment I knew I had MND.
My whole world turned upside down. All I could think about was my kids, my beautiful kids.
They still needed me, and I might not be around…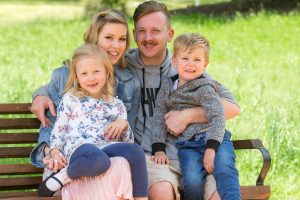 Last Christmas, I could stand and walk with a forearm crutch. This Christmas, it's a totally different story.
I have a walking frame, even to take just a few steps, and I'm spending most of my time in a wheelchair.  It's getting harder to talk. The words just don't come out the same way.
I can't even pick up my little boy Xander to give him a cuddle anymore. He doesn't understand, and it breaks my heart.
MND is a nightmare. It's the only way to describe this horrible, hideous disease. A total nightmare.
When you get better, mummy," he says, "you can pick me up. You can drive the car again and take me to the park.
But I'm not getting better. And how can I explain it to him? He's only three.
I'm frightened, and I'm grieving, because I know I'm not going to see my babies grow up. I won't see my children get married. I might not even see my son start school.
When Xander was a little baby, l used to take the kids for long walks to different playgrounds. But in early 2017, I started finding it hard to walk long distances. My walks got shorter, because my lower back started hurting and my legs would get heavy. My right foot was getting difficult to lift.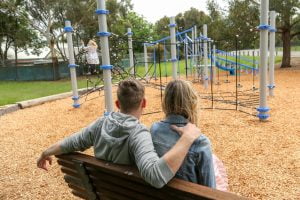 Somehow, deep down inside, even though I didn't want to acknowledge it, I knew something was very wrong.
Life was busy. I was in the middle of my marketing degree and I had so much hope for the future – a whole new career in a creative field I loved. I was successfully balancing study and motherhood and I was so happy. The kids were keeping me busy too – Amelia was only four and Xander had just turned one.
The nagging fear kept on. Something was not quite right. So in April 2017, I made an appointment to see my GP. I was nervous, but tried to stay positive. I was only 33 after all – what could possibly be wrong?
Everything was great – my wonderful partner, my beautiful children, my study and my career.
When I told the GP about my symptoms, he sent me straight to a neurologist with full bloods and an MRI. I was terrified. Stupidly, I opened the sealed referral letter. I read the words 'suspected MND'. I sat in my car, got on my phone and googled it, the worst thing I could have done. I remember running back into my office and crying uncontrollably.
But the neurologist told me it was unlikely. There were many conditions to rule out first and MND was the last stop. So I clung on to hope.
Then came more MRI's, nerve conduction studies, blood tests, a lumber puncture, even a genetic test. It took months. Throughout it all, I was incredibly positive. No matter what it was, I was going to beat it.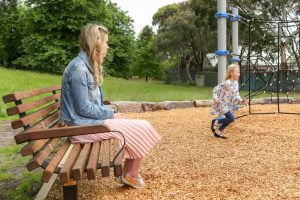 In August 2018, I finally put on my cap and gown and graduated. I felt invincible as I stood holding that piece of paper. It was all blue skies ahead.
But just one month later, the world collapsed around me. On the morning of Monday 3 September 2018, I was diagnosed with MND.
Now I need help with everything. Losing my independence is so hard.
I can't walk, drive, cook, sing or look after the kids on my own. My voice is fading. I hate having to ask for help. And it terrifies me that it's only going to get worse.
Every morning when I wake up, I wonder what I will lose today.
But I won't quit. I live for the joyful moments, the laughter, for my children's hugs and the thought of their squeals of excitement on Christmas Day.
I keep busy. I always have a project 'on the go'. In July, just five months ago, the project was my wedding – my once-in-a-lifetime day with Shane and the kids. It was the best day of my life. Back then, I was actually able to walk down the aisle and stand for a wedding dance, with some help. Now we are working towards buying a beautiful house. The thought of it keeps me going, keeps me smiling.
My beautiful Amelia spends a lot of time on my lap, talking and cuddling me these day
This Christmas will be so precious to me. The house is decorated. The tree is up and full of twinkling lights. The kids are so excited for Santa.
This year, I won't be able to make Christmas dinner or sing carols with the kids or jump up and down with them in delight on Christmas morning.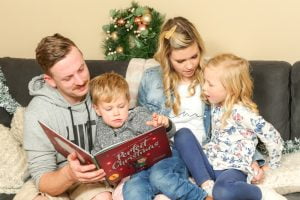 This horrible disease is taking me away from my family. But it doesn't have to be like this for everyone.
If we can invest more money in research, the future will be different. We will find a cure.
Will you please help beat MND?
Thank you, from the bottom of my heart
PS: On Christmas Day, I'll be surrounded by love and laughter, with my beautiful family and friends. I wish you much love and joy for Christmas, too.