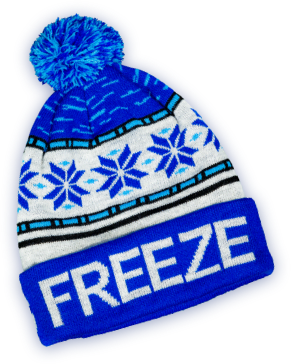 Big Freeze 5 Beanies are no longer available online
[bigfreeze_tally_section undefined="" animation="fadeIn"]
Sporting stars make a splash
Big Freeze 5
Fourteen recently retired sporting champions have played their role in 'freezing' MND at the annual Queen's Birthday Big Freeze at the 'G
AFL Premiership medals, Brownlow Medals and Olympic Gold medals adorn the mantlepieces of the sporting superstars who took the plunge into the famous pool of ice at Big Freeze 5 all in the name of raising critical awareness and vital funds for research into finding a cure for Motor Neurone Disease.
AFL greats Chris Judd, Jimmy Bartel, Cyril Rioli, Sam Mitchell, Nick Riewoldt, Bob Murphy, Jobe Watson, Brent Harvey, Brendan Fevola & Liam Picken joined 4-time Olympian Lauren Jackson (Basketball), Olympic and Commonwealth Games Gold medallist Anna Meares (Cycling) and Commonwealth Games gold medallist Bianca Chatfield at the top of the famous slide.
While some counting of donations and beanies continue, as the game concluded, over $4.75m had been raised.
The official attendance for Big Freeze 5 was 74,036.
Sold Out
Beanies are sold out online. Here is where you can get them now.
Due to the amazing support of the Australian community, we have officially sold out of the Big Freeze 5 beanies online earlier than ever before and we are incredibly humbled by that.
But that doesn't mean you can't buy one.
We are selling beanies at the following AFL games;
Thursday, June 13 at Adelaide Oval
(Adelaide Crows v Richmond)
Friday, June 14 at Marvel Stadium
(Essendon v Hawthorn)
Thursday, June 20 at Optus Stadium
(West Coast v Essendon)
OR TO SIMPLY DONATE, SMS 'FREEZE' TO 0429 000 333  
2019 BIG FREEZE 5
SLIDERS
Cyril Rioli

Association

Lauren Jackson

Association

Dane Swan

Association

Nick Riewoldt

Association

Brendan Fevola

Association

Jimmy Bartel

Association

Anna Meares

Association

Bianca Chatfield

Association

Jobe Watson

Association

Chris Judd

Association

Liam Picken

Association

Bob Murphy

Association

Sam Mitchell

Association

Brent Harvey

Association
Beanie launch
Beanies launched in 'giant' fashion
The Big Freeze 5 beanies went on sale to the public on May 13 and were launched with a difference this year.
For the first time ever, a giant beanie has been constructed and was the focus of attention at the peak hour launch in Bourke Street Mall.
The giant 'paper-mache' beanie, constructed in the garage of FightMND Campaign Director Bec Daniher by her husband Drew, took almost five weeks weeks to build.
The pair then commissioned acclaimed artist and FightMND supporter Vincent Fantauzzo, who donated his time, to work on painting the beanie.
Fantauzzo, husband of Australian actor Asher Keddie, has won the Archibald Prize People's Choice Award four times.
The giant beanie will be at the MCG for Big Freeze 5 on June 10. Fans and supporters can take photos and have selfies with it so keep an eye out for it at the game.
The story so far
Five years on
From modest expectations, the Big Freeze at the 'G has become one of the most successful community fundraising events Australia has ever seen. 
Without the vision and passion of the late Dr. Ian Davis, Pat Cunningham and Neale Daniher, our three co-founders, the Big Freeze concept would never have been born and without the unwaivering support of the FightMND Army, sponsors, partners, suppliers and media since 2015, it would not have continued or been as successful.
Over the past four years, in excess of 280,000 people have filled the MCG to support the day, more than 200,000 beanies have been sold and millions of dollars raised to ultimately help us find a cure for 'The Beast'.
On June 10 this year, the fifth installment will take place – freezing more celebrities, selling more beanies and raising more vital money for MND research.  The fight against The Beast continues so join us for Big Freeze 5 and we'll see you at The 'G
Photo: Neale Daniher, Mel Yang (wife of the late Dr. Ian Davis), & Pat Cunningham
10 June, 2019
Big Freeze 5
Our fifth installment of 'Big Freeze at the G' will play host to another group of courageous celebrity sliders that take the plunge into the most famous pool of ice at the MCG on the Queen's Birthday holiday in 2019, raising awareness and funds for our fight against MND.
In 2018, we achieved an incredible result and we ask everyone to join us again as the fight against 'The Beast' continues so we can continue to fund world's best practice research.
Big Freeze 5 will be held on June 10, 2019 at the Melbourne Cricket Ground ahead of the annual Queen's Birthday clash between Collingwood and Melbourne Football Clubs.
Buy, post, win
'Socialise' your beanie
Have you ever imagined that spending $20 could get you tickets to the 2019 Toyota AFL Grand Final?
Well it can!
Simply purchasing a Big Freeze 5 beanie and posting a photo of yourself wearing it on Instagram, Twitter and Facebook, you are in the running. Just make sure you tag it with #BigFreeze5 and @Fightmnd to make sure we see it too.
Each photo will place you in the draw to win two (2) tickets to the 2019 Toyota AFL Grand Final at the MCG on Saturday, September 28.
We will announce the winner via our social media platforms on Wednesday, June 26.
Remember, have fun and be creative.
Good luck
Grand Final AFL Authorisation Code is: GFAFL19/20
OFFLINE DONATIONS
If you wish to make an offline donation to Big Freeze 5, you can do so a number of ways.
Send a cheque or money order made payable to "FightMND" and post to the address below. We'll post or email you a tax receipt, so be sure to include your contact information.
FightMND
PO Box 23390,
Docklands, 8012,
Victoria, Australia
---
Alternatively, you can make a bank transfer. Please include your name in the transaction reference and contact us to organise your tax receipt.
Name: FightMND
Bank: National Australia Bank
BSB: 083 004
ACC: 73-138-9056
International Transfer SWIFT code: NATAAU3303M
July 28, 2019
Run Melbourne 2019
Run Melbourne is more than just a fun-run, it's a way of getting active and fundraising to make a difference.
You can join Team FightMND today and start training and fundraising immediately so make sure you get involved either as a 'Champion Runner' or just a regular entrant.
We look forward to seeing you, maybe as one of our 'champion runners' at the start line.
The fight against MND needs you
FightMND - It Takes People.
We have a wonderful FightMND army supporting us and need more to join the army. Our work has just begun, we haven't found an effective treatment or cure as yet.
This is why we fight!