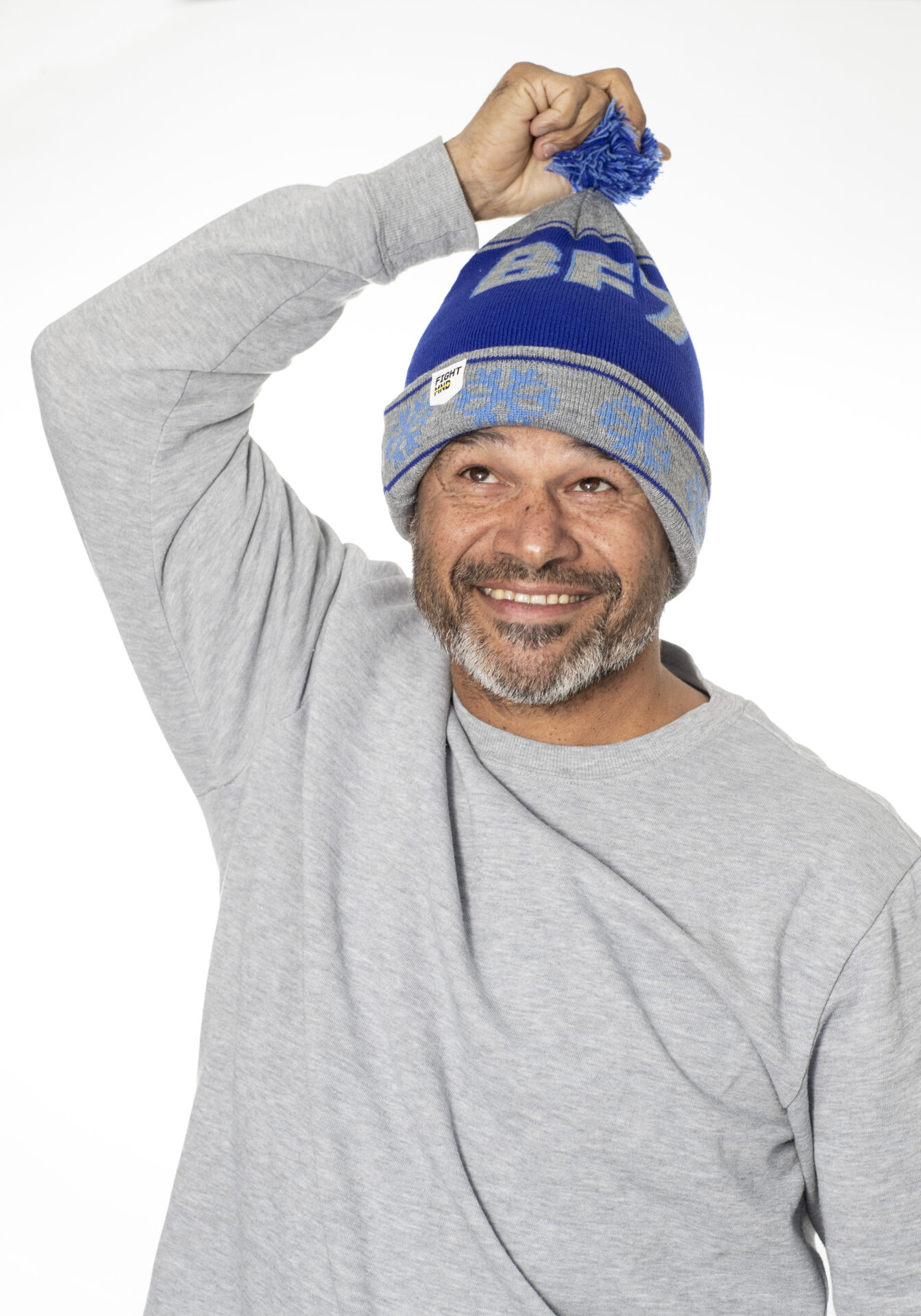 Jeff 'The Wizard' Farmer
Jeff Farmer, aka the Wizard, says he was "bloody stoked" to be asked to be a slider.
Coached by Neale at Melbourne Football Club, Jeff says "Neale was a great coach to me. We had our moments but I've got nothing but respect for the man".
He follows this up by suggesting that Neale may have "asked me to go down the slide because he knows how much I hate the cold!"
When asked if he is nervous about sliding Jeff says, "100%!! I bloody hate the cold. Always have, always will!"
But Jeff will be there on the day, choosing to 'Play On'.
"When it gets tough in life you need to pick yourself up and keep going no matter the circumstances", he says.
The Wizard is calling on the Army to come out and fight for Neale.
"Neale has led from the front…which has been amazing. But now it's time for everyone else to get on board and help lead the fight".
"Make sure you get down to the "G on Queen's Birthday to support the cause. It's going to be a great day."
Jeff Farmer grew up in the small town of Tambellup in Western Australia before embarking on an AFL career that saw him play 249 games. He played for Fremantle and Melbourne Football Clubs and was the first indigenous player to kick 400 goals.
He was All Australian in 2000 and is known as the Wizard due to his uncanny ability to kick freakish goals.
Daisy Pearce
Having witnessed her best mate Dave's mother suffer through MND (she passed away 4 years ago), Daisy Pearce understands how important it is to keep fighting for a cure for MND. 
"She was fit, happy, healthy and just a beautiful lady. It was such a tragic loss", says Daisy.
This isn't Daisy's only connection to MND. Her step-father also lost his step-father to MND. 
"He was an active healthy man who was brought down so quickly", says Daisy. 
This experience provides yet another motivating force for Daisy to offer support anyway she can, and she encourages others to do the same.
"Buy a beanie, organise your own event. Donate, create awareness", Daisy says.
"We don't have a cure and we can't accept that. We need to do our bit to keep fighting and make the prognosis better for families".
Daisy says it is "a real honour to play a part in an amazing day and for such an amazing cause."
"The Big Freeze is the centerpiece of the wider MND fight, so to be a small part of the day is incredibly humbling".
Daisy didn't hesitate to say yes when she was asked to be a slider and says she responded with "I'm in! tell me the details and I'll be there 100%".
"When you know how much Neale sacrifices, and all the work he puts in, it's such an inspiration. It made the decision instant", she adds.
After all, Daisy hails from the Alpine Valley in North West Victoria and is used to the cold and cold water!
Daisy Pearce is a pioneer of Women's Football in Australia. One of the AFLW's premier stars, she has been at the forefront of the fast-expanding women's game since it launched on the national stage in 2016. She was Captain for Melbourne and won Best and Fairest in both 2017 and 2018. She is also a 2x All-Australian representative. 
Mother to twins Sylvie and Roy, Daisy is a practicing midwife and expert analyst for the Seven Network and SEN radio.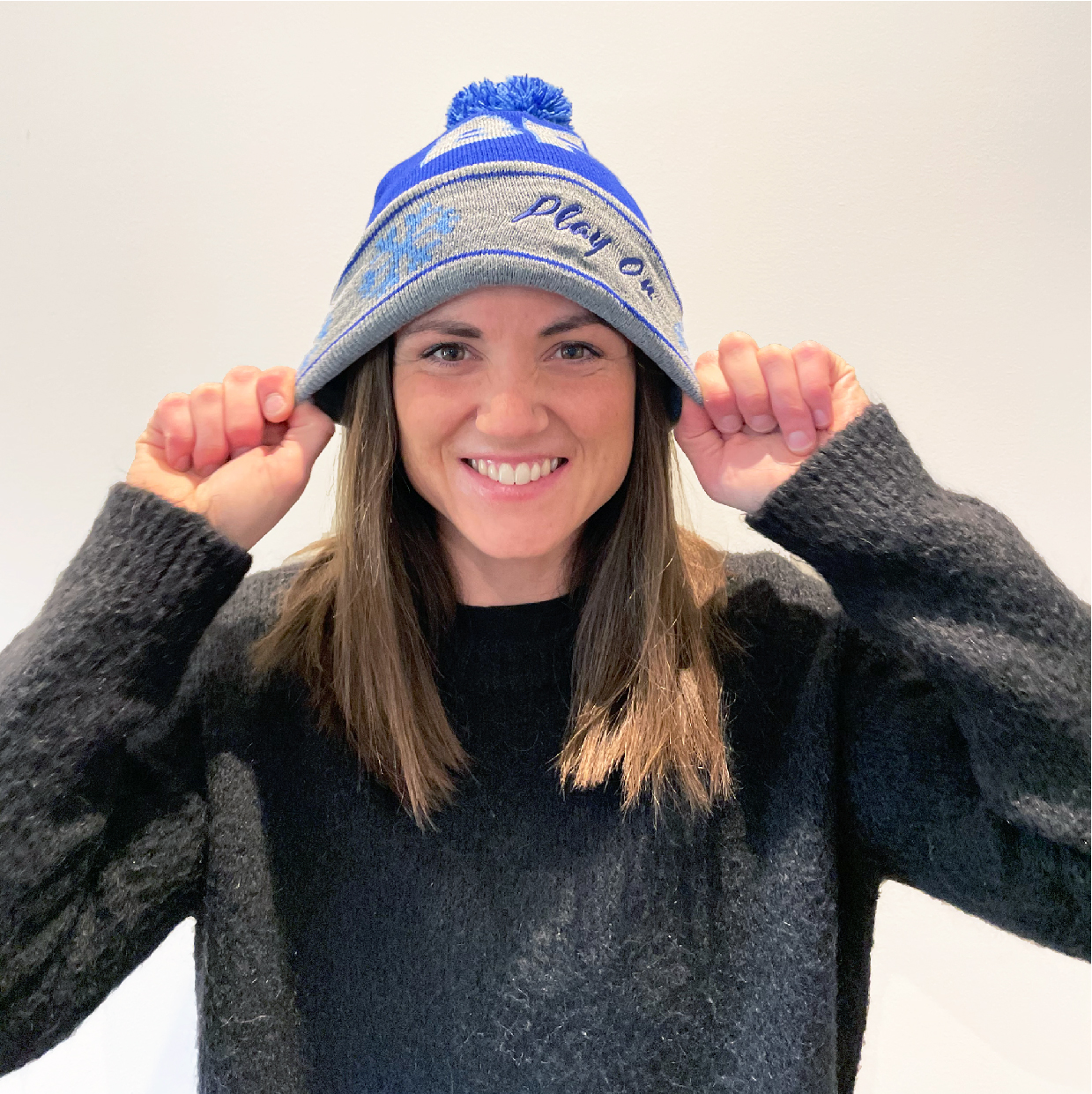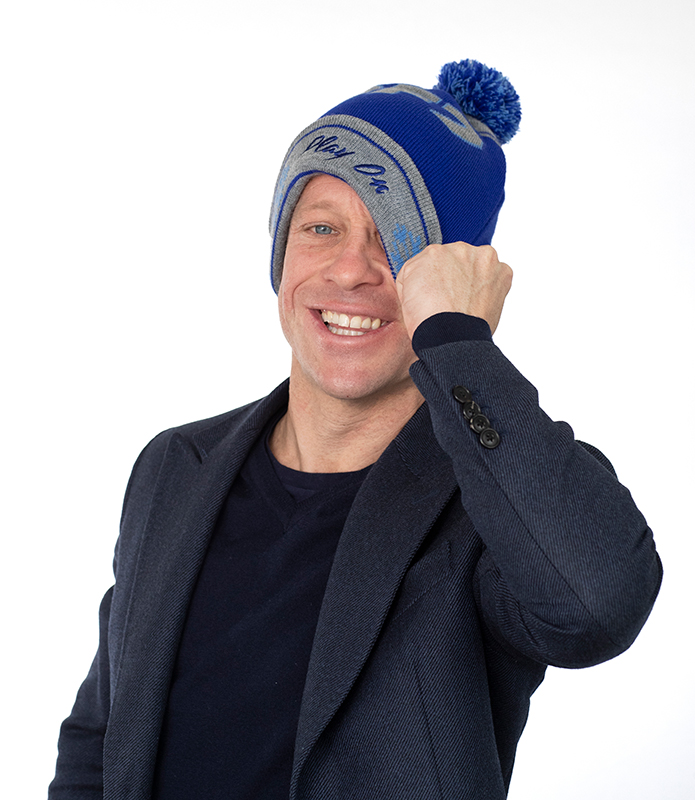 'Razor' Ray Chamberlain
'Razor' Ray Chamberlain, probably Australia's best known AFL umpire, says he feels very humbled to have been asked by Neale to be a slider.
"I feel fortunate to have been invited to be part of something that…is so incredible. The day itself is profoundly impactful and the cause so powerful", he says. "The people who have driven this are so inspiring".
When asked what 'Play On' means to him, 'Razor' Ray says it means to 'get on with it'. "Not to dwell, not to cease…but to keep going, with purpose".
'Razor' Ray says that Neale's role modelling of his mantra 'Play On' provides him with "inspiration, positivity, energy, context and resolve" and he praises the FightMND Army for "contributing to a cause that is so worthwhile".
The Army's efforts are "quite literally playing a part in changing people's lives…for the better". He says that the Army should be proud of what they are doing. "It matters".
'Razor' Ray admits he is nervous about going down the slide. "Any time you undertake something for the first time there is always an element of trepidation."
But you only need to consider the purpose of the day and the cause itself to overcome any minor level of nerves or anxiety".
'Razor' Ray was born and grew up in the ACT and umpired his first Australian rules game as a teenager. He was offered an umpiring contract by the VFL in 2000. He promptly moved to Victoria, where he umpired in the VFL for four years before being offered an AFL umpiring contract. He has umpired more than 330 AFL games.
Abbey Holmes
Abbey Holmes says it is a real privilege to have been asked by Neale to be a slider for Big Freeze 7.
"I absolutely jumped at the opportunity to be involved", she says.
"I have watched the previous 6 Big Freeze events…and am in awe of Neale, and his commitment and dedication to FightMND".
Abbey recognises that there is definitely a fun aspect to the Big Freeze but emphasises that the priority is to raise funds to find a cure for MND.
"It breaks your heart knowing that people are living with MND, knowing there is essentially nothing they can do", she says.
To Abbey, "'Play On' means to fight".
She says it is an important slogan that can be used in many different facets of life. No matter what life throws at us, "the good AND the bad, we continue to 'Play On'…placing one foot in front of the other, doing the very best we can".
Abbey says of Neale that "the inspiration he has provided for all since vowing to 'Play On' after his diagnosis" is admirable. He has "given hope to so many people around the globe living with MND. He's an absolute champion!"
Abbey urges the FightMND Army to continue to fight.
"Continue to 'Play On'. Continue to rally together until we find a cure."
She finishes by reminding everyone that the money FightMND raises goes "toward critical research in finding a cure for MND, so lets come together a make a difference".
Abbey Holmes played AFLW for the Adelaide Football Club. She began playing football for the Waratah Football Club in the Northern Territory Football League in 2012 and won four consecutive premierships with the club, and was the league's leading goalkicker the same four seasons. In 2014, she became the first woman to kick 100 goals in a season in an established football league.
Since 2018, Abbey has been a commentator for the Seven Network's coverage of AFL and AFLW.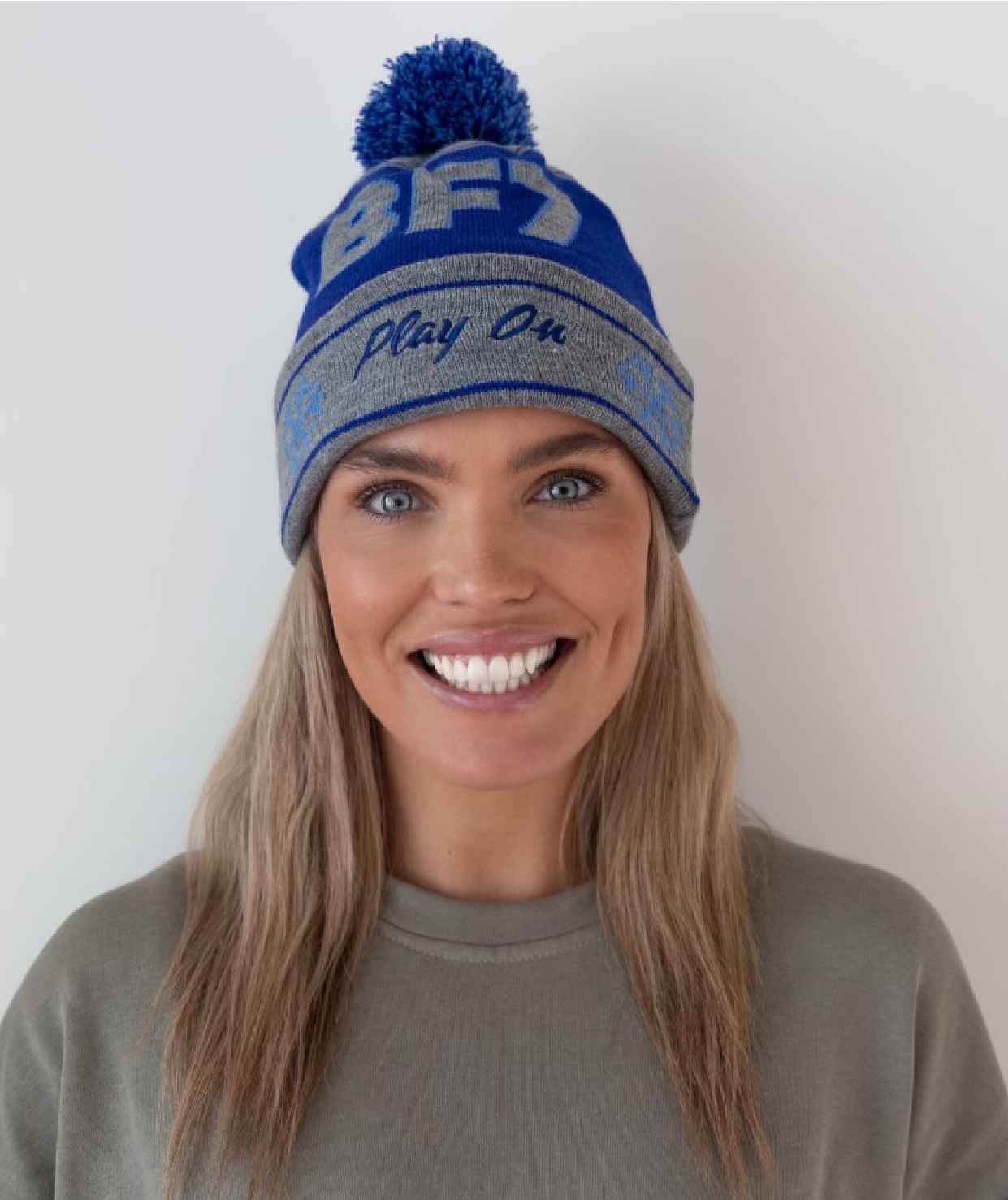 Shane Crawford
Former Brownlow Medalist and Premiership player Shane Crawford says "Neale Daniher is my Superhero. Even ahead of Batman and Superman."
It's no surprise that Shane follows up by saying he "absolutely admires Neale and his work and is so honoured to be a slider and to have some part in such an important day."
When asked if he is nervous to slide down into the ice, Shane says he is not nervous as such, but is "worried as the water is freezing."
He thought he had "retired from ice baths years ago and was excited knowing that he didn't have to do them ever again!"
Shane has known Neale for a long time, and has more in common with him than their mutual love of footy. Shane and Neale went to the same school, Assumption College in Kilmore, and like Neale, Shane also comes from a small town in NSW.
To Shane 'Play On' is "to keep charging forward and keep on living despite the challenges". Just like Neale.
Shane Crawford grew up in Finley NSW. He played 305 games for the Hawks and was both a Brownlow Medallist and Premiership player. He now works in media for Channel 9 and says he loves passionate people and believes charity involvement is a must. He is dad to four boys.
Sarah Jones
Despite hating waterslides and being a self confessed "chicken", Sarah Jones says she feels "incredibly honoured" to have been asked by Neale to be a 2021 Big Freeze slider.
"I am not a very emotional person, I don't often cry. But only nights earlier I had been making dinner and the news was on. Neale and Jan were…launching the [Big] Freeze and I just burst into tears," Sarah said.
"Something about the devotion of Jan to her husband really struck a chord with me."
Sarah says it made her think of her own marriage (to Leigh), and how the marriage commitment carries through "sickness and health".
When asked what 'Play On' means to her, Sarah says "that you have to keep marching forward. It's a mantra for positivity through dark times and a commitment not to stop surging onwards."
Her advice to the FightMND Army is to "Never give up. There has to be a cure out there somewhere, we just have to find it."
The eldest of five kids, Sarah Jones grew up in Echuca in Northern Victoria. It was her goal to be a sports reporter from the age of six, a goal she has well and truly surpassed. This is her 20th year with FOX Footy, having started as a teenage production assistant in FOX Footy's very first year. She was the first woman to host an AFL broadcast and has since hosted the AFL finals, All Australian Awards, Hall of Fame, ALF Draft, ALF MVP award and the AFLW awards.
She is wife to Leigh and Mum to Mila (6) and Halle (4).
Craig Bellamy
NRL legend Craig Bellamy says that the 'Play On' message "really resonates" with him.
"We hear that call often in our games. It's about continuing to move forward, seeking opportunities and looking to fulfill your goals."
"Don't stand still. Don't wait for others. Get on with the job," he says.
Craig says he is inspired by Neale's approach, and the way "he has not let MND defeat him".
Instead, Neale was worked to help so many others. His approach "has been inspiring, uplifting and very touching," he says.
As the first rugby league Big Freeze slider, Craig says "it's an honour to be invited to take part and to represent Melbourne Storm and our game of rugby league".
And despite being considered one of the greatest coaches in NRL history, Craig says "heading down the slide gives me some trepidation".
He adds "I'm sure our players will love seeing it – but it's all for a great cause."
"That's what Neale and his FightMND Army are all about."
Craig Bellamy is the head coach of the Melbourne Storm and a former professional rugby league footballer. Craig played his entire NRL career with the Canberra Raiders during the 1980s, and 1990s. He was appointed head coach of the Melbourne Storm in 2003 and since then has lead the team to multiple premiership victories.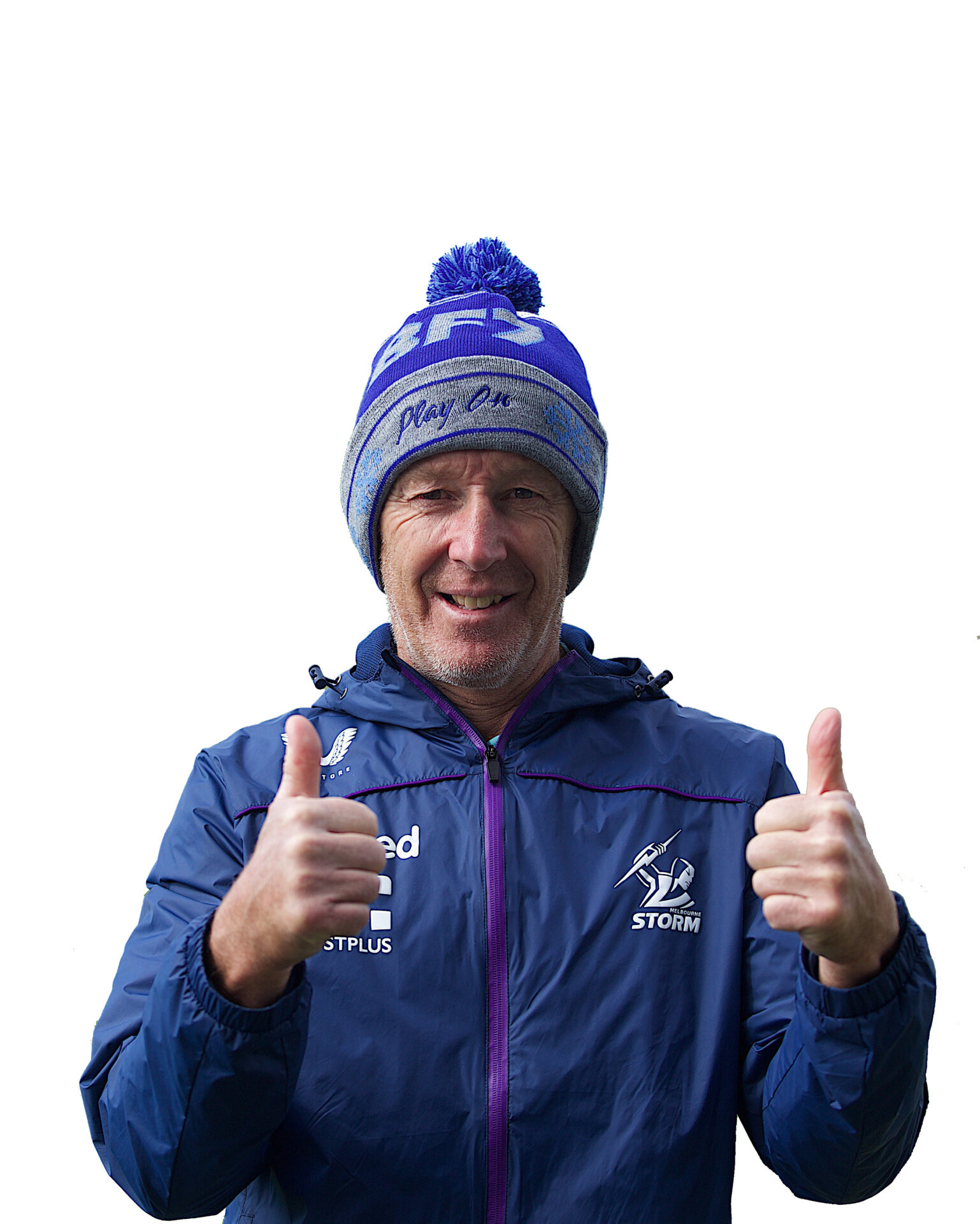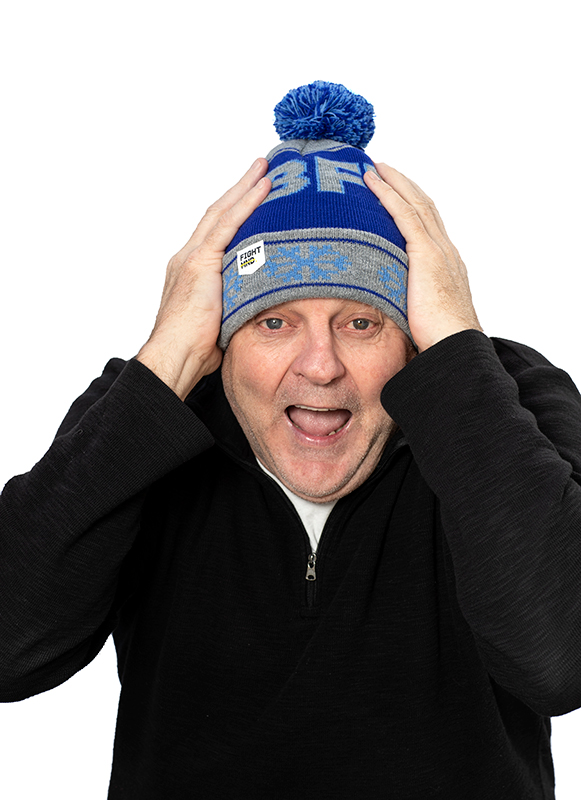 Billy Brownless
Billy Brownless admits that he didn't do much 'playing on' during his football career. He notes however that the term is now recognised, not just in its football context, but also as "the great Neale Daniher's catch cry."
He adds "I know we struggle at times…with different things, but we must always 'Play On'."
Billy continues by saying he is honoured to be a Big Freeze slider.
"There are only about 10 sliders each year…so to be part of [Big Freeze] number 7 is a massive honour. I cannot wait to get out there in my costume!"
And despite his enthusiasm, Billy admits to being a "touch nervous" about going down the slide.
"The slide itself will be alright but…when you hit the water it will be a different story," he says.
"I know when I used to get a little injury I would put my foot in a bucket of ice…I couldn't handle it for more than 20 seconds."
Billy finishes by adding "it will be interesting to see how I go when the big body goes in!"
Billy Brownless first came to prominence as a high-flying forward for Geelong. Growing up in Jerilderie in Southern NSW, Brownless was a schoolboy star with Assumption College before making his debut with the Cats in 1986.
Billy twice led Geelong's goalkicking and was All-Australian in 1991. He kicked nine goals in the 1992 Qualifying Final, eight in the classic 1991 Elimination Final win over St Kilda and sits fifth, with 441 goals, on the Geelong all-time goalkicking list.
For the past decade, Billy and good friend James Brayshaw have been part of Melbourne's drive home as hosts of the 'The Rush Hour' on Triple M. He can also be heard as part of Triple M Footy's weekend coverage of the game.
Billy's son Oscar is following in his father's footsteps. 2021 is his second year as a midfielder on the Geelong Cat's AFL list.
Russell Howcroft
Russel Howcroft admits that he is "no Daniher" and that to him 'Play On' meant "getting caught because I was way too slow!"
A Melbourne Demons tragic, Russel admits to loving all things close and dear to his fellow Dees.
"The Reverend being up there among the more revered of the Red and Blue bloods".
"Neale Daniher's career as coach of the Melbourne Footy Club was unbelievable".
Russel adds that Neale's success in leading the Dees to the second highest number of finals in the AFL during the period from 1995 to 2005 was extraordinary.
Of the Big Freeze he says, "like Neale's coaching and playing career he has produced this amazing event that has rivalled, if not gone past, all of his footballing days," says Russel.
"I am so privileged to be a part of something so big."
Russel says a "chill went down my spine" when he was asked to be a slider and when asked if he is nervous about sliding, he says "my god I am, please wish me luck people!"
Russel Howcroft is a businessman and media personality. He was a panellist on the ABC television program The Gruen Transfer and is currently host of Breakfast with Ross & Russel on 3AW.