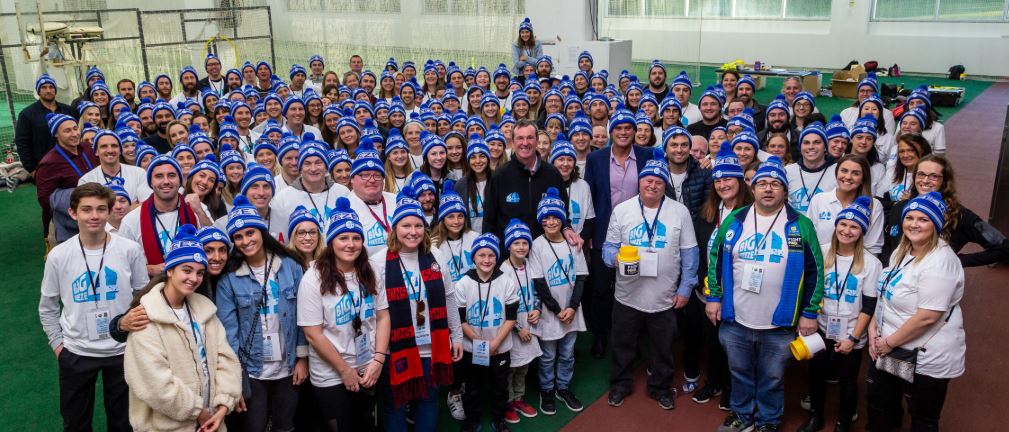 "Volunteering with FightMND is one of the most rewarding experiences. I have had lots of fun, made friendships for life with people who share a common goal and taught my children the importance of giving and together we can make a difference. FightMND needs more volunteers and I highly recommend joining the army of volunteers and help make an impact on this devastating disease."
(Narelle Britt – FightMND volunteer since 2014)
Without our loyal band on volunteers, we could not do what we do or achieve what we have in the past five years.
We would love to have you involved to help make this the most successful Big Freeze campaign ever. Please see below a list of Big Freeze 6 volunteer opportunities in the coming months:
Beanie packing: May & June
Similar to previous years, in the lead up to and post the Big Freeze event, we have a team of volunteers working hard to distribute our beanies from 'Beanie HQ' in Mt Waverley to the thousands of people that buy the iconic 'must-haves'. This involves packing beanies into parcels and distributing to our valued supporters. It is during business hours in a fun environment and it is also a great opportunity for companies to have their employees get together and help our worthy cause. We will work with you to schedule times that suit you best.
Beanie sales & promotion at your workplace (during May- June)
A great way for businesses to show their support is to sell beanies within their organisations to employees, suppliers, clients and broader networks.  This can be done by sending out emails or adding information on workplace intranets & newsletters or by setting up a beanie stall in your workplace foyer. The FightMND team is here to provide all marketing material, flyers and posters that you may need.
Tin shaking: Big Freeze 6 at the MCG (Monday, June 8)
Tin rattling is a simple but integral part of fundraising. We have plenty of opportunities for everyone to get involved on the day, taking generous donations, meeting and thanking people for their incredible support.  Get a group of friends together or come solo and join in on all the fun.
Beanie selling at additional AFL games:
As we have done for the past two years, we will be selling beanies at additional AFL games, including outside of Melbourne, in 2020. These extra games are not yet confirmed so please keep checking here for when these games are locked in and if you are in any of the states we are coming to, we would love to have you on board.
Email us at [email protected] to find out more or simply register below and one of the FightMND team will be in touch with you.