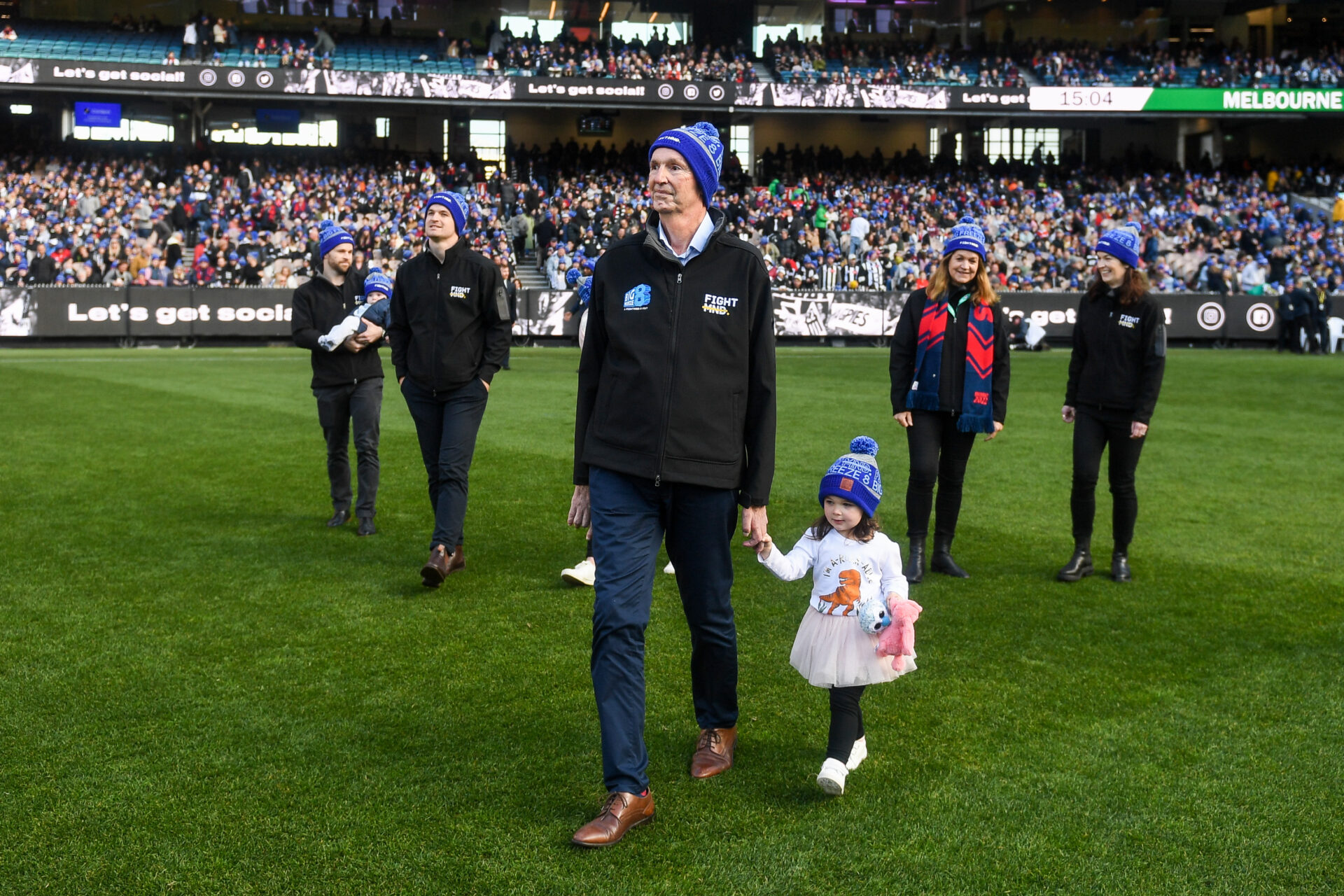 FightMND's Big Freeze continues to raise awareness and much-needed funds to 'beat the beast' with the charity today raising more than $2 million in community funding before the Federal Government added $4 million to a record-breaking tally.
Contributions also came from the Victorian State Government, adding $250,000 to the cause which meant that FightMND's '$2 million by Monday' campaign exceeded its fundraising target before the end of the first quarter at today's clash between the Collingwood Football Club and Melbourne Football Club.
It was a sea of blue Big Freeze beanies as nearly 80,000 fans rallied together, in a strong show of support for football legend Neale Daniher's charity, FightMND.
Today also marked the first time that the Big Freeze match has been played at the MCG in two years.
Neale Daniher AO, who is battling MND, was joined by his family before the game at Federation Square to lead Melbourne FC fans in the March to the 'G along Daniher's Way.
Not to be outdone, Collingwood fans converged on the MCG from the Collingwood Community Festival at the AIA Centre which also played host to a Big Freeze netball game between Collingwood and the Melbourne Vixens.
Broadcast on the Seven Network nationally, the Big Freeze 8 festivities kicked off at the ground from 2 pm with a performance by Chris Cheney from The Living End before 10 courageous celebrity sliders faced Australia's coldest ice bath.
Decked in costumes based on their favourite movie moments, this year's star-studded cast of sliders (in sliding order) included Eddie Betts (Black Panther), Rhonda Burchmore (Poison Ivy), Andy Maher (Radar – M.A.S.H), Jakara Anthony (Katniss Everdeen), Hamish Blake (Elsa, Frozen), Terry Daniher (Crocodile Dundee), Justin Langer (Rocky Balboa), David Neitz (William Wallace, Braveheart), Bec Maddern (Trinity, Matrix) and Ash Barty (Rafiki, Lion King).
Neale and Bec Daniher were on hand to send the celebrities down the slide into the icy pool – which took 600 bags of ice to fill and was a cool -3 degrees.
Funds raised through the Big Freeze are invested in vital MND research to find effective treatments and a cure for the terminal illness which has an average life expectancy of only 27 months.
FightMND Campaigns Director Bec Daniher said that it was incredible to see the MCG turn blue once again.
"The Big Freeze is back, and we are so fortunate to have such incredible support from across the entire community – we turned the MCG blue," she said.
"While there may be two clubs playing out there today, it's clear that there is one team, unified and determined in the fight against this Beast of a disease."
We are constantly humbled and overwhelmed by the generosity of the Australian public. To reach our $2 million target before quarter time is amazing and we can't thank everyone enough."
"To have my Dad by my side today is very special – he is honestly my hero. Marching with him, standing with him at the slide, and then being on the ground with all his grandkids running around is a memory I'll treasure for a long time. He is so strong, positive and determined."
Ash Barty, who went down the slide dressed as Rafiki from the Lion King, with Simba in tow, said that it's hard not to be inspired by Neale Daniher.
"This day is for him [Neale] and this day is because of him. The way Neale can bring awareness to an incredible beast of a disease, and the way he is able to fight inspires not only Australians but people all the way around the world. He's created an opportunity for us to do our part in helping find a solution, so this is all for Neale. There are incredible people who want to be involved because he is an exceptional man," Barty said.
More than 100 people have now gone down the Big Freeze slide since it first began –  Neale's Captain at the Melbourne Football Club for nearly a decade, and one of his closest friends, 300-gamer David Neitz having the honour of being the Big Freeze's 100th slider.
"Braveheart was an absolute nod to Neale; he is the bravest man I know and what he is doing to fight this beast and inspire so many people is enormous. This is right up there as a special moment to be here at the MCG with Neale fighting for his cause," Neitz said.
FightMND would like to thank our major partners – Coles, Bunnings and the AFL, as well as the Federal Government and Victorian State Government for their support of this year's campaign. Just as importantly, we'd like to thank the FightMND Army, including our amazing volunteers for the ongoing support of the fight to find a cure.