To cure,
to care,
to make aware

.
BIG FREEZE 7
LAUNCH COUNTDOWN
Pull your socks up
Sockit2MND Socks on sale now
The Sockit2MND Round is back in 2021 and socks are now on sale. Socks are available for pre-order for only $15 per pair, with all proceeds going directly to funding vital Motor Neurone Disease (MND) research.
So, we are call on all sporting clubs, schools, workplaces and associations to get involved. It's fund, it's community-orientated and it's helping us to fight "The Beast". Orders close next week.
SOCKIT2MND
Mates Sockit2MND to honour a proud dad
In 2017, Rose & Matthew Martinez lost their husband and dad Danny to MND.
With the help of friend, former star Demon and official Sock2itMND Ambassador Russell Robertson, Rose & Matthew are supporting the 2021 Sockit2MND Round and in doing so, knowing their support of FightMND and raising awareness and funds would make Danny a proud man.
BIG FREEZE 7
The Big Freeze beanie is the iconic symbol of the FightMND Army, and it's back in 2021!
They'll be worn on building sites, at sporting events, in the snow, in the Outback, at the beach, in the workplace, at schools, on public transport, at shopping centers and more, right across Australia. Where will you wear yours?
They are still just $20 each, so sign up to be one of the first to secure your 2021 Big Freeze beanie.
Freeze Your Local Community
DIY Big Freeze
The fun, colour and excitement of the Big Freeze doesn't just happen at the MCG on Queen's Birthday.
You can get involved and fundraise for FightMND by planning your own event or selling beanies within your community.
Register your interest below and our team will be in touch to help you bring the Big Freeze to life at your sports club, work place, school, or anywhere at all.
What are we fighting for?
We are fighting to beat 'The Beast'
We want a world without Motor Neurone Disease (MND) and it takes an army of people to help achieve this – and we have the FightMND Army on our side.
Our core aims are to generate greater awareness of the disease, to fund world-class research and drug trials to find an effective treatment and ultimately a cure for Motor Neurone Disease and provide assistive care equipment to many Australians fighting the disease.
There is no known cause, limited knowledge of the natural course of the disease, there is no effective treatment and there is no cure.
We call it 'The Beast'. This is why we fight.

$48.45m
Committed to MND research initiatives

$14.32m
committed to 11 Clinical Trials

$16.68m
committed to 17 drug development projects

$4.5m
World-first drug screening platform

$3.06m
Other research grants & initiatives

$2.55m
Sporadic ALS Australian - Genomics Consortium

$2.0m
Precision Medicine Program

$3.74m
committed to 15 IMPACT grants

$1.6m
Research fellowships and scholarships

87c
In every dollar raised committed to research projects & care initiatives
2021 Daniher's Drive - expression of interest
The planning for the 2021 Daniher's Drive is well underway and it promises to be another great fun event so now is the time to register an expression of interest to be involved.
The famous 4-day regional road-trip was unable to go ahead in 2020 due to the restrictions presented by Coronavirus so the organising committee are busy working on making amends and presenting an event that is one not to be missed.
Details regarding the 2021 Daniher's Drive will be released in due course but places are limited so let us know if you are interested in more information by clicking the button below.
Express your interest here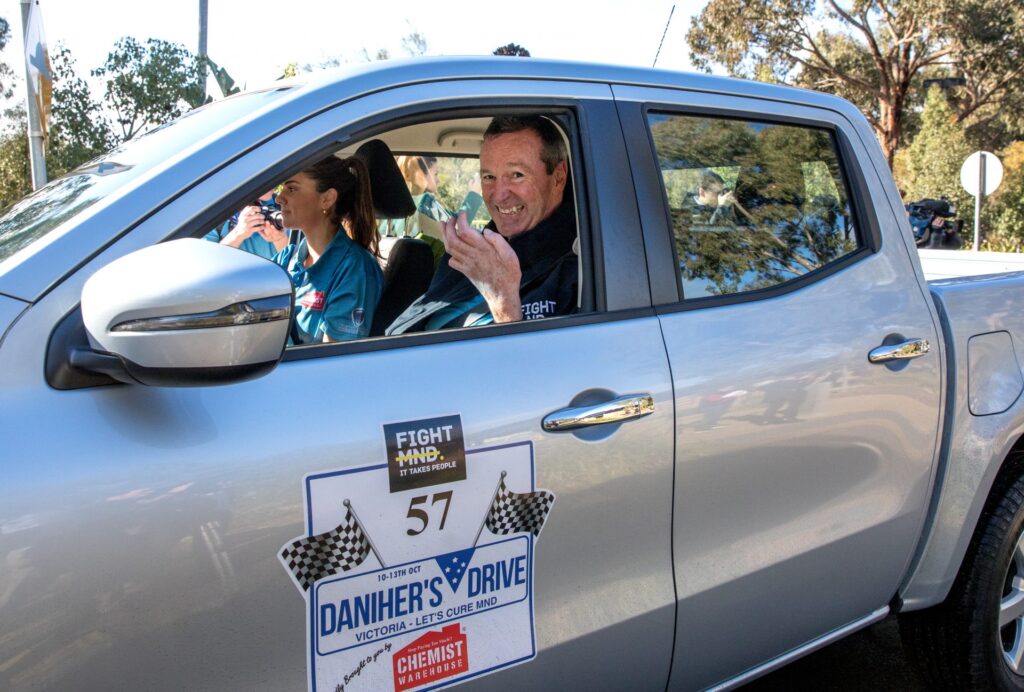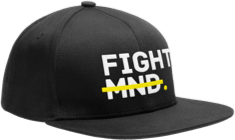 Our Shop
Wear Your Support
Join the fight against MND.
Visit our online shop to browse and purchase some of our FightMND apparel, and in doing so, you are continuing to help our fundraising efforts.
What We Do
About FightMND
Our MND stories - meet Terry Roles
Tasmanian Terry Roles was diagnosed with MND in 2019 and he shares his story here