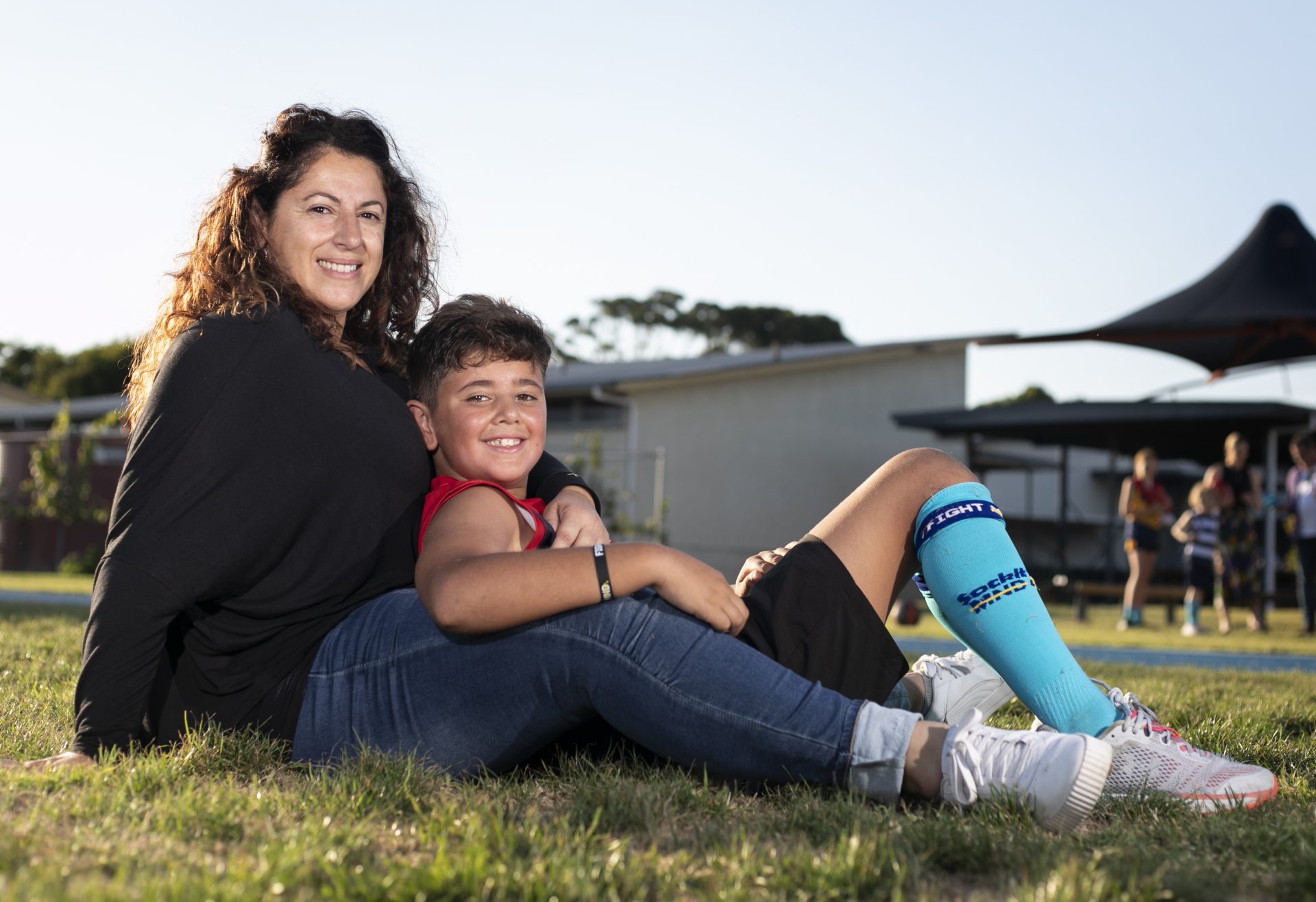 When Matthew Martinez joined his best mate Tex Robertson on his home basketball court for a Herald Sun photo shoot to promote FightMND's Sockit2MND Round, mum Rose said that Matthew's dad Danny would be a proud man.
Danny Martinez lost his battle with Motor Neurone Disease in 2017 after a four-year fight, aged just 46.
"When Danny was alive and FightMND came to fruition, he threw 100% of his support behind it," Rose said.
"We just want to continue on with his legacy of continuing to raise awareness and much needed money for research. That was important to Danny."
"To be able support FightMND's fundraising efforts is both heartwarming and humbling and for Matthew to also be part of that means the world to us and Danny would be incredibly proud."
Matthew's mate Tex is the 10-year-old son of former Melbourne high-flyer Russell 'Robbo' Robertson who has been a family friend of Rose & Danny's since the two boys met and became close friends.
The boys and their local basketball team at the Southern Basketball Association are taking part in Sockit2MND and will be pulling on the bright blue socks on the official round on June 19 & 20.
'Robbo' is also donning his socks as the official 2021 Sockit2MND Ambassador.
Russell knows the world of MND all too well, still being close to his former AFL coach Neale Daniher who continues to battle the disease after seven years.
"Having close friends such as Neale and Rose, who have been so deeply affected by MND inspires me to keep going again and again because the hurt and sadness the disease causes to families is so significant and we need to stop it in its tracks," he said.
"Events like Sockit2MND allows us to have fun in our sporting and local communities and for Tex to be able to support his best mate, who lost his dad, is just so rewarding for all of us."
Rose speaks fondly of the bond and connection Russell had with Danny and how he supported her and Matthew during some difficult periods of Danny's fight.
"Russell was there during Danny's tough times and he was very supportive as a mate. He did give Danny a level of comfort and peace of mind that he would be there for Matthew and that there will be a male role model in his life. He treats Matthew like one of his own and Matthew appreciates that too," she said.
As the primary carer for her ailing husband, who was a very active person and worked in project management, Rose reflected on the nature of MND and how it cruelly takes over the body and takes away the independence of people.
"It's a horrific illness, and I get emotional just talking about. To see a loved one just wasting away and losing every ability to walk, talk, eat & ultimately losing their life in that state is just horrible," she said.
"FightMND is an amazing organisation that provides hope to people.
"The one thing that Danny always held onto was hope. He knew in his lifetime, there wasn't going be anything (treatment or cure) for him but for future generations of people that will get MND, he was just hopeful for them and their families."
Help bring hope to families like Rose's by getting your sporting club involved in the Sockit2MND Round. The Sockit2MND socks are on sale now for $15 per pair, with all funds going directly to funding new and innovative MND research, as well as funding vital assistive equipment for people currently fighting MND. Head here to find out more: