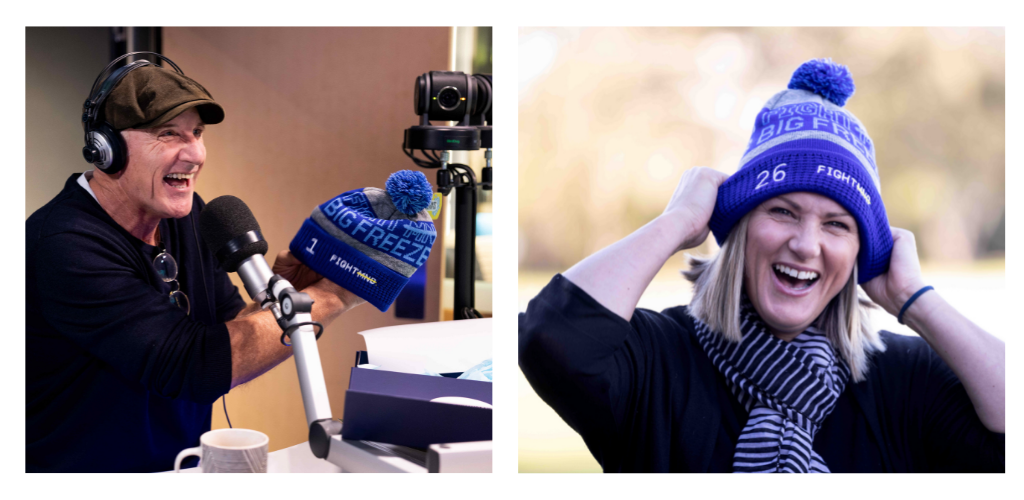 Past Big Freeze sliders were surprised on Tuesday with a special, one-of-a-kind beanie as part of the launch of the Big Freeze Forever (BFF) club.
A homage to cricket's famous baggie green, 19 Big Freeze slider alumni were presented with their own 'baggy blue' beanies, embroidered with a unique number that represents the order they went down the celebrity slide.
A gift on behalf of FightMND Patron and co-founder Neale Daniher, the beanies are both a thank you and recognition of the unique contribution that each slider has made to the fight against MND.
Kicking off the day with a presentation to Tim Watson as slider number one, FightMND Campaigns Director Bec Daniher presented 'baggie blues' to Garry Lyon (9), Ross Stevenson (3), Russel Howcroft (88), Brendan Fevola (60), Dave Hughes (19), Jonathan Brown (13), Bianca Chatfield, Sharelle McMahon, Matthew Richardson (12), Jack Reiwoldt (77), Gerard Whateley (15), Mark Robbinson (8), Simon Goodwin (31), Alan Richardson (39), Christian Petracca and Angus Brayshaw (81), Ben Brown (70), Billy Brownless (89) and Andrew Gaze (23).
92 sliders in total have taken the plunge at the Big Freeze clash on the Queen's Birthday Public Holiday since 2015. The remaining sliders will receive their Big Freeze beanies over the coming days.
This year's Big Freeze 8 will see the list of sliders grow to more than 100 people.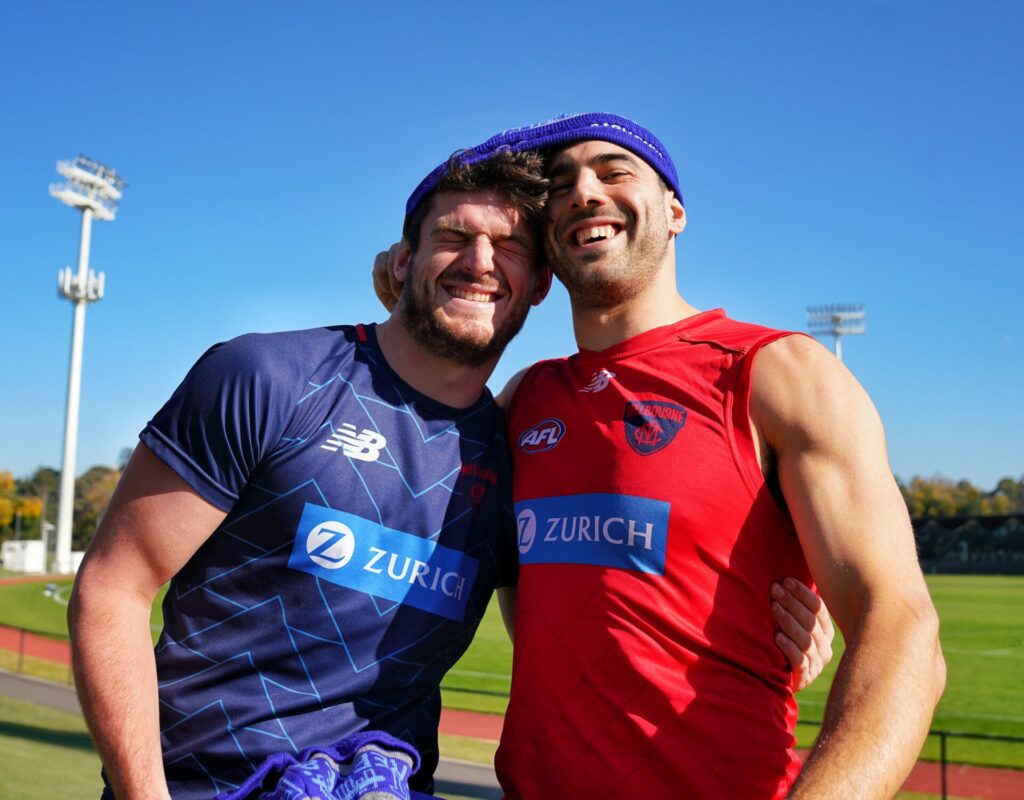 As the first ever Big Freeze slider, Tim Watson spoke on SEN about Neale's persuasiveness in convincing him to go down the slide in front of thousands of people at the MCG.
"Have you ever said no to Neale?"
"The Big Freeze just took off – Neale being the character he is, he's so authentic, it just captured the imagination of the public. Everyone was into it in a big way," Watson said.
There was a touch of controversy when Christian Petracca was presented with his baggie blue, having to share the number 81 beanie with Angus Brayshaw who tagged along as his 'caddy' in the COVID-impacted year in 2020.
Watch the original Petracca and Brayshaw video here.
Neale Daniher AO said he was very proud to see just how many incredible people have accepted his challenge to plunge into Australia's coldest ice bath all in the name of a good cause.
"Whether you went down the slide first, last, decked out in costume or wearing barely anything at all (we will never forget Sam Newman's mankini), every single person has played an important role in Big Freeze history."
"Each slider has helped bring attention, awareness and plenty of fun to the fight against MND and I couldn't be prouder of everything we've achieved together."
"MND is a brutal disease, but we still need to find moments to laugh and cherish our time together, which is what the Big Freeze is all about."
The first slider for this year's Big Freeze is set to be announced on Channel 7 at halftime of the Sydney Swans vs Richmond game this Friday 27 May and Bec Daniher couldn't be more excited.
"We've got an incredible list of sliders lined up for this year and I can't wait to share them with you. I promise you won't be disappointed," Bec Daniher said.
Funds raised through the Big Freeze are invested in the best and brightest researchers who are dedicated to finding effective treatments and a cure for MND.
Big Freeze beanies are $25 and are now on sale at Coles, Coles Express and Bunnings stores nationwide or online at fightmnd.org.au.