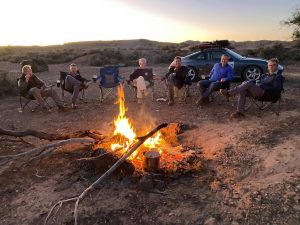 When you think about tackling the red sandy plains and sand dunes of Australia's Simpson Desert – for many, a Porsche sportscar is not the first vehicle that comes to mind.
But for 80-year-old car-enthusiast Tom Barr-Smith Snr, his son Tom and a group of five mates from Flinders in Victoria, a 2003 C4S Porsche proved to be the perfect, attention-grabbing vehicle for their desert crossing.
While the challenge may seem daunting for most – a 5500+ kilometre journey with 500+ kilometres spent on unmade outback dirt roads in a sportscar designed for the autobahn – a determined Tom and his troop were spurred on by the cause.
Much more than just an outback adventure, the purpose of Tom's desert mission was to raise awareness and more than $100,000 for research into a treatment and cure for Motor Neurone Disease (MND).
Since setting that goal, Tom has raised more than $114,000 with generous donations from friends and strangers inspired by his story continuing to flow through.
Tom's wife Jenny passed away from MND and the family have been loyal and dedicated supporters of FightMND for many years.
"She is not here partly because she was among the 5-10 percent of MND sufferers who tragically have the 'familial' gene about which little was known when her mother and her aunt died of it many years ago.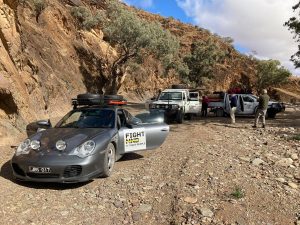 My children have a 50 percent chance of getting it as well. We have been staunch supporters of all Fight MND efforts over the years and are no less so now."
Loaded up with swags, fuel and a just few spare tyres, Tom's desert journey began on 10 July on a chilly morning in Flinders with an overnight stop at Burra, SA before heading on to Marree and the Oodnadatta Track via Williams Creek, Dalhousie Springs and then on to the Simpson Desert.
The team returned via the Birdsville Track through Leigh Creek, the Flinders Ranges and Nagambi before heading home via a COVID testing site in Frankston (the scene of a final flat tyre).
Taking nearly two weeks, it was slow going, averaging around 120-150 kilometres per day.
Even before they began, there were plenty of naysayers telling Tom and his troop that they couldn't do it – especially not in a Porsche.
"We wouldn't have got the attention we did if we'd gone through [the desert] with proper four-wheel drives. We're a pretty determined lot – there were plenty of people who said we wouldn't get through and amazingly the car drove out [of the desert] on its own," Tom said.
Admirably, Tom never doubted his determination or his confidence in the car to see the challenge through and help raise funds for Fight MND.
"Not one of us thought we weren't going to make – even if we had to tow the rotten thing the whole way, we would have done it. Quitting wasn't an option."
And that is one of the most miraculous things about the trip, the unmodified Porsche completed the outback journey relatively unassisted, only coming unstuck on some dunes or with one of only five flat tyres.
"We were only towed occasionally – if there are 1,130 sand dunes – we might have been towed across only 10-15 of them. As for the rest, the extraordinary motorcar the completed journey," Tom said.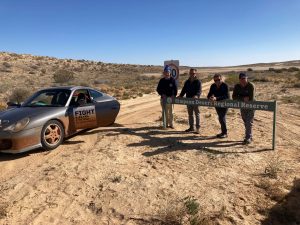 While it may have completed the drive, the car is unsurprisingly now a bit worse for wear. To put it in Tom's words, "the car is rooted" and is currently held together with sticky tape and cable ties.
The car, in all its dusty, beaten up glory, will be on show at Porsche Showroom, Brighton for those keen to see it for themselves.
Tom and his team would like to thank everyone who has supported, donated and followed their journey with a special thanks to Porsche Centre Brighton, Community Bank Balnarring District – Bendigo Bank, Tuckets Tyre power, Merricks General Wine Store, Baillieu – Mornington Peninsula, Elgee Park, the Rosebud Hotel, Sorrento Panels, Boags Beer, Progress Signs and Kay & Burton.
While the challenging and inspiring journey might be over, Tom is still urging people to support and donate where you can.
"This wonderful world will be an even better place, should our collective dollars and scientists bring about a positive result in the treatment and ultimately a cure for MND."
If you would like to support and donate towards Tom's fundraising mission, please visit his fundraising page.