I first met Ian in 2014 when he came to visit our MND lab at the Florey Institute where I was working. He came to meet Brad Turner, who was our lab head, to see the work we were doing.
Ian had a vested interest in our work – he had MND.
The things I really remember about Ian, aside from being very tall, was that he was really friendly and an incredibly optimistic person.
From the first conversation you had with Ian, you just immediately liked him. I certainly did.
Before meeting Ian, I didn't know much about him. All I knew about him was he had MND and was trying to raise money and make a difference in the MND fundraising space.
History will show that Ian indeed did make a difference, in more ways than he could have ever imagined.
People often ask me how would I describe Ian.  That's easy. He was driven, confident with a strong vision and knew how to get things done. He could be very headstrong when he wanted something, which was a really positive thing.
He knew how to get people to join the cause with him. He led from the front.
Being headstrong and backing himself, Ian ruffled a few feathers when he came into the MND sector. He just believed that what he was doing was right, and he wouldn't take no for an answer. He was so committed.
Thank goodness he didn't take no for an answer otherwise FightMND wouldn't be where it is today nor would the progression of global MND research.
To illustrate how much Ian immersed himself into the Foundation and the cause when it was founded, he did almost everything from day one. I decided to do some fundraising for FightMND and when I first made contact to say I wanted to fundraise, it was actually Ian that responded to my inquiry. That really surprised me because I assumed there was a lot of people working at the Foundation and someone in admin might respond to me.
In the early days, Ian did everything from designing the logo to setting up the website, ordering the merchandise to then thinking about research and fundraising strategies. Along with his wife Mel and son Archie, FightMND became his purpose in life. He was determined to make an impact.
Over time, Ian's MND progressed to a point where he was unable to come into the office very much. We would chat over skype or over email, so it was a little challenging in the beginning. Then we were in constant communication all day everyday it seemed about what we were going to work towards but we were always making sure we were having a lot of fun at the same time.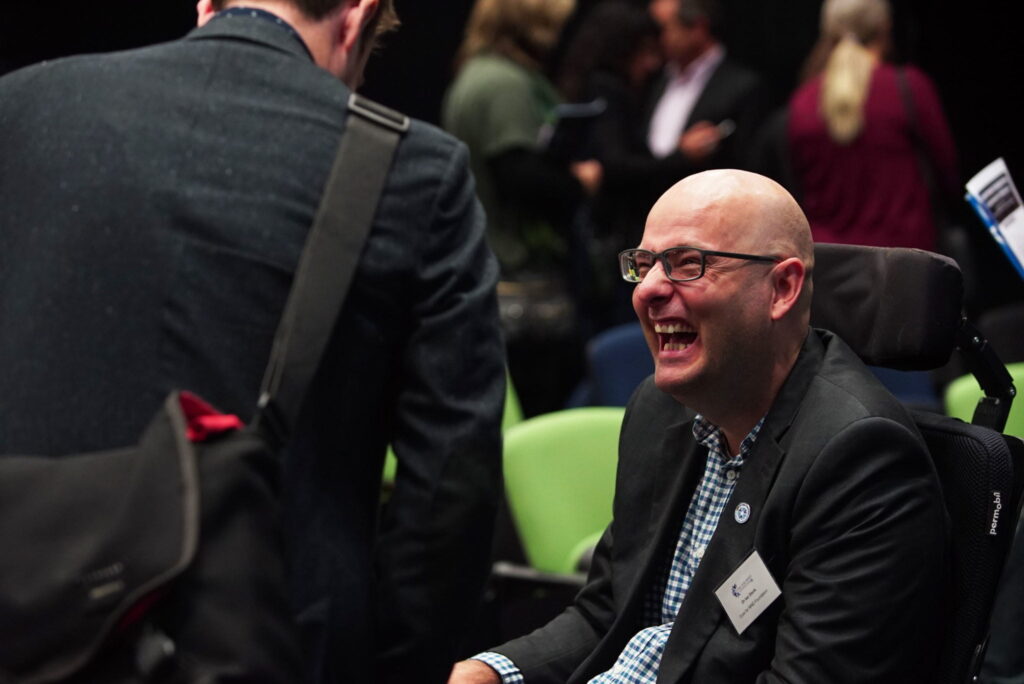 The best days were the days he was able to come into the office. We spent hours talking about where we wanted to go in the future and what opportunities were out there.  His vision enabled him to go above and beyond what I ever thought was possible.
When I am asked about the impact Ian made, it is a difficult question to answer. His impact was multi-faceted.
I honestly think Ian has single-handedly changed the way the rest of the world looks at Australia for MND research.
The type of research we fund, and the models we use to determine the best and most suitable research to fund can be, in the most part, attributable to Ian. These are elements of our Foundation that other organisations are now looking at and thinking it is a really good way of doing things. Ian helped to set a standard in MND research in Australia.
Having clinical trials available for MND sufferers was a high priority for Ian because they give people hope.
Ian's vision was that for those diagnosed, they have an opportunity to be involved in a trial as opposed to going to their neurologist and being told there is nothing that can be done for them.
He worked 24/7. Even though he was the one with MND and losing the use of his hands, I couldn't keep up with the rate at which he was processing information, coming up with new ideas and new contacts.
Ian has left several indelible legacies, but two stand out above all others. The establishment of the Foundation and his family, beautiful wife Mel and adorable son Archie.
We could just be a fundraising organisation, but we are so much more than that and are now having a real impact in the research sector. That is difficult to do when dealing with a disease like MND that is so hard to make progress on and have an impact, but we are.
The concept, and ultimate successful delivery, of the Australasian MND Symposium in Melbourne in 2018 will always be something we'll thank Ian for. We reached out to a dozen MND experts internationally and we were hoping to get three or four of those people agree to come and speak, but because of the person Ian was and his reputation, we had 10 international speakers want to come and be part the inaugural symposium.
The event was incredible successful and ended up being something the Foundation should be very proud of and can be attributed to the hard work of Ian.
I know he died with the knowledge he made a big difference. We are in a better place now than before Ian Davis. That is a great legacy.
Ian always taught me to make a decision and go for it. He lived his life like that, and I suppose having MND makes you not want to waste time. I hear his little voice in my head often and that inspires me to continue to make a difference, like he wanted to do. He was a great leader, a great mentor and the those around the world impacted by MND will miss him.
Dr. Bec Sheean
FightMND Research Director
---
Testimonials
"Ian was diagnosed before me and given he worked in the medical world he recognised immediately that the current funding to find treatments and a cure for MND was totally insufficient. Something needed to change. He was a fighter … he wanted to make a difference .. so he did something."
Neale Daniher – FightMND co-founder and Patron
---
"Ian had a massive and ongoing impact on MND Research and awareness, in Australia and throughout the world.
"As a result of his initiatives, clinicians and researchers worldwide have become more aware and inclusive of Australian involvement in trials and research. This awareness culminated in the successful symposium in Melbourne, and has lead to ongoing initiatives including TEALS and Triumeq, with trials involving lithium and nanoparticle gold soon to launch.
"Ian created many great linkages for the Australian MND community – these will remain his ongoing legacy."
Prof. Matthew Kiernan AM – Bushell Chair of Neurology
---
"Ian was instrumental to the partnership with Neale and Pat which rapidly transformed FightMND into the peak independent MND Foundation and a household name in Australia.
"While Neale is the public face of MND, it was Ian who was working relentlessly behind the scenes. Ian's vision and success in funding and accelerating the MND drug development and clinical trial pipeline in Australia, knowing it would be too late to benefit him, has brought Australia in line with international clinical trials, creating equality for all MND patients.
"Ian was a force of nature until the end. He was tireless, resolute and visionary in his pursuit for a world free of MND and leaves behind a profound impact and tremendous legacy."
Associate Professor Brad Turner -Florey Institute of Neuroscience
---
"Ian created a intellectual rigour and a formidable international reputation for FightMND in its pursuit of a cure.  Ian was selfless and relentless in his research, review, debate and challenge of conventional MND research and the limitations created by a lack of funding.  Ian never tired of pursuing the best science rather than a quick fix even though personally his fight may have been eased by more short term thinking.  Ian knew this fight was a marathon and not a sprint and he rallied the Army to be in for a long battle. The regard with which Ian was held with international experts, the "rock stars" of MND research was a testament to who he was and what he meant to MND research."
Gary Nugent – FightMND Board Member & Treasurer
---
"Dr. Ian Davis had an immense impact on raising awareness of MND in the Australian community, transforming the knowledge of this disease from an obscure
neurodegenerative disease to one that was at the forefront of the communities thoughts.  These efforts resulted in a tremendous injection of funding for MND
that has revolutionized research and placed Australia as one of the world leaders in MND.  Importantly, pivotal clinical trials were brought to Australia, and innovative research was enabled that has advanced the understanding of MND parthenogenesis.   Thorough Ian's enthusiastic attitude, in spite of the uphill battle with this devastating disease, he has managed to inspire a whole new generation of MND researchers, a legacy that will last.  Underscoring his achievement is the flourishing of FightMND, a philanthropic organization that has transformed the funding of MND in Australia.  
"FightMND will live on, being Ian's legacy and lasting reminder of his achievements in this field of medicine. 
"On a personal level, I have found Ian an inspiration.  He has provided hope  in a tough funding environment enabling my team to undertake important research projects, establish lasting collaborative links and relationships.
"The funding that was afforded to us by FightMND, which has enabling important research to be conducted, would not have been made possible without Ian's hard work.  I will be eternally grateful to him for this."
Professor Steve Vucic – Director of Neurophysiology, Westmead Hospital
---
"I feel immensely fortunate to have worked with Ian. He often put pressure on to reach success but he always offered practical tips. He was a scientist through and through, even when fundraising he asked me to "test, test, test".  
I'll never forget Ian saying, "Just jump in and give it a go!"  I found it to be incredibly liberating and the most empowering career advice. His words still give me gusto to work at FightMND on a daily basis."
Anna Skelton – FightMND Fundraising Manager
---