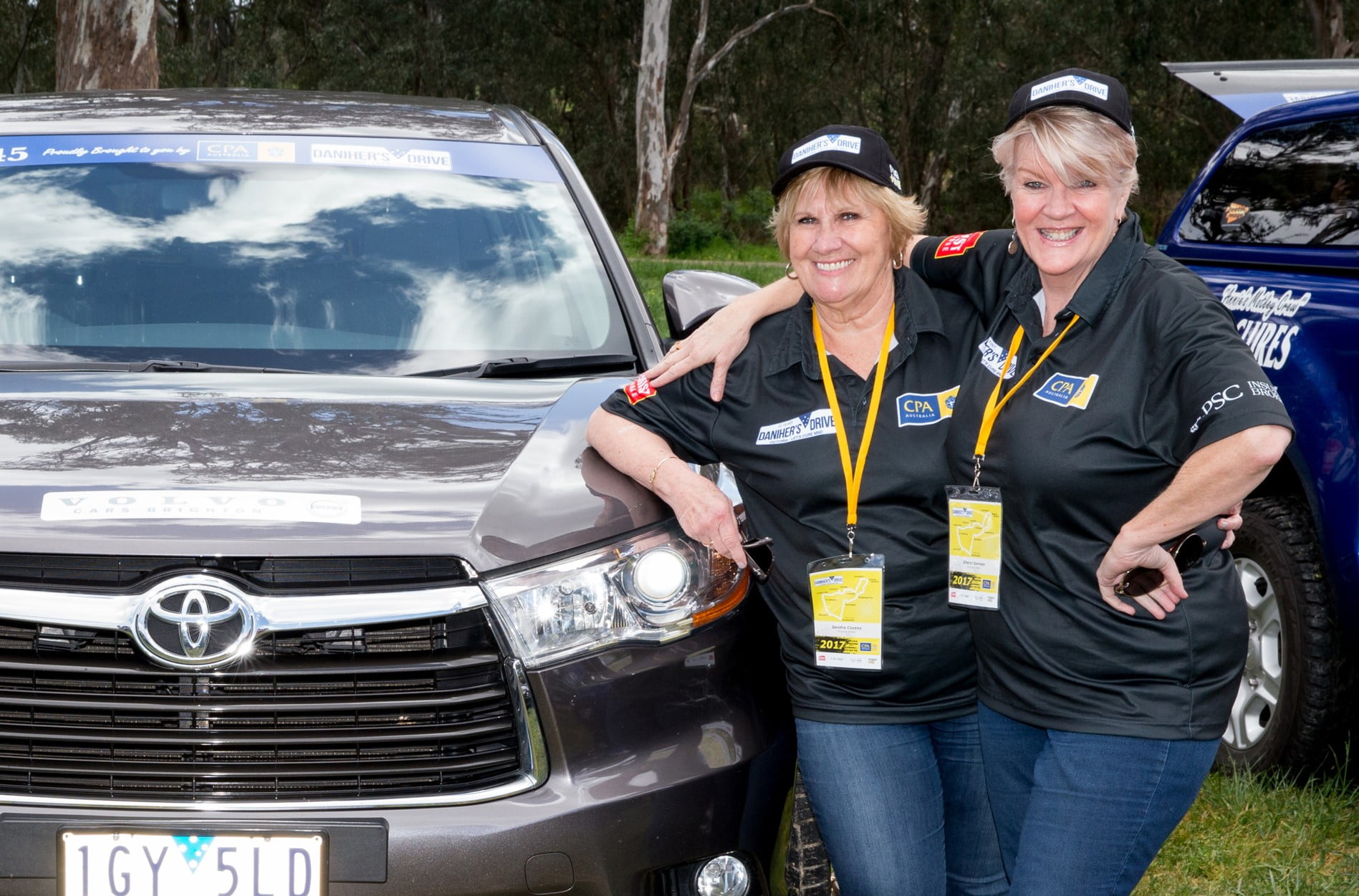 WHEN SANDRA MET SHERYL
When Sandra Cozens and Sheryl Gannan 'accidentally' met at an Essendonians season launch three years ago, neither imagined they would raise close to $70,000 together for FightMND in just two years.
Life-long Essendon supporters and members of the famed Bombers coterie group, the Essendonians, Sandra and Sheryl, along with Sylvia Kirwan, decided to embark, as new friends, on their first Daniher's Drive in 2017.
In 2018, the dynamic duo is back for the second time as 'Driving Divas'.
"We were sitting together at an Essendonian function, having never met each other before, and I said to Sheryl that I would love to do the Daniher's Drive event, and we agreed on the spot that we would," Sandra said.
"Sheryl is a great event organiser and had previously fundraised for FightMND before we came together, so I knew that we were in good hands to raise some money for the cause."
Prior to forming 'Driving Divas' and joining Daniher's Drive, Sheryl recalls her first fundraising event for FightMND in 2016.
"It was called 'A Night to Fight' at the Essendon Bowls Club, with entertainment from Simon Madden and his band, and we raised $15,000 in one night thanks to the amazing support and generosity of so many friends who came along to be a part of something special," Sheryl said.
"Simon has been incredibly supportive of all of our events, he is just a beautiful man who is always only too pleased to help out when he can.
"There is nothing better than raising money with people, it is all about friends and community," Sheryl added.
Holding fundraising events such as ice bucket challenges, dinners, wine tasting and sales, Sandra told FightMND that the 'Divas' were pleasantly surprised as to how successful their fundraising efforts have been.
"We set ourselves a target of $35,000 this year and with only two weeks to go until the event, we have raised $33,000 so we are thrilled.
"We held a function for 180 people at Luna Park in August and had Terry Daniher and Simon Madden attend who made the night so much fun, it was a wonderful success," Sandra added.
It is both Sandra and Sheryl's love for the Essendon Football Club, respect for the Daniher family, a personal family connection with MND and being inspired by Neale Daniher's courage and fighting spirit that attracted them to wanting to be a part of the unique and fun event.
"I had an aunt that had Motor Neurone Disease 12 years ago but before that I had no contact with the disease at all and knew nothing about it, but now we do, and we know the devastating impact it has on people and families," Sandra said.
"Neale is such a wonderful person and has shown great courage throughout and we are all inspired by him and  all the people with MND who fight so bravely.
"Being able to fundraise but have fun doing it is the way we can do our bit to help.
When asked about her favourite moment during the events so far, Sandra's response came without hesitation.
"When Neale was standing up in front of everyone at the Rock 'n Roll theme night last year, dressed like the classic rocker. He was just having a ball, enjoying every moment, it was fantastic to see.
"The Drive is 4-days of sheer enjoyment and fun, it is so friendly and great to see so many communities willing to participate along the route, it's so good," Sandra said.
"We are proud to be a part of it."