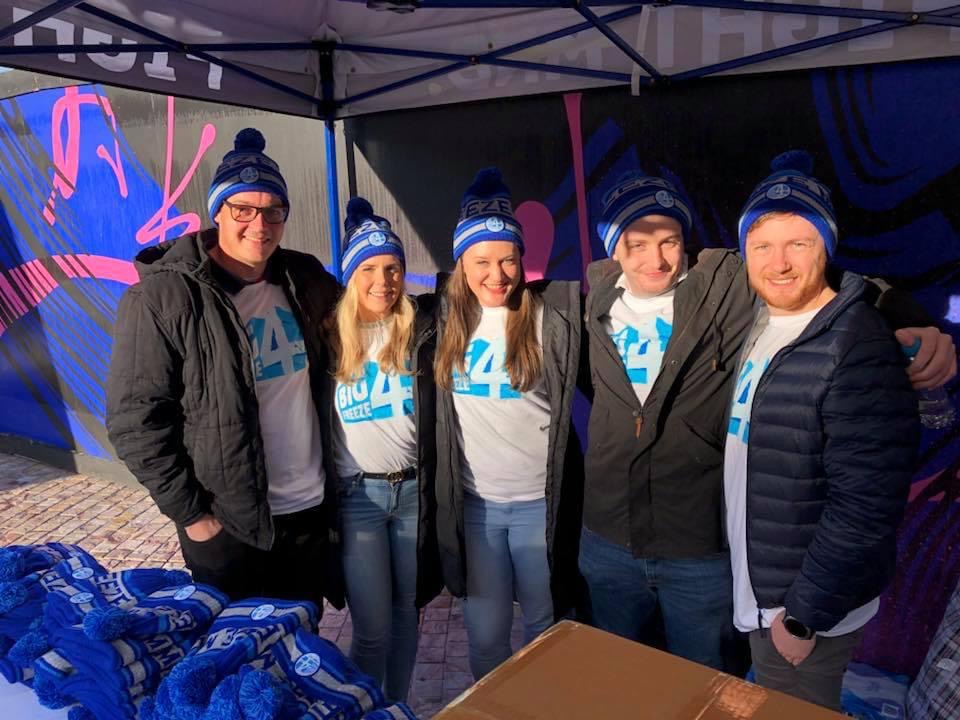 Tracey and her family have been part of the FightMND Army since the very beginning – with the whole Ashton family working the beanie tent at Fed Square for every Big Freeze. 
We caught up with Tracey to ask her why she joined the fight against MND, and to share her favourite moments as part of the Army.
Head of Counselling at St Joseph's College Ferntree Gully by day, Tracey has dedicated her spare time to the FightMND Army every Big Freeze since 2015 – alongside her growing family. Each year, they set up the beanie tent outside Federation Square and help sell our iconic blue beanies to anyone and everyone – raising crucial funds while helping to create a fun and celebratory atmosphere that the Big Freeze has become known for. 
"Being part of this Army has been a really special and meaningful experience," Tracey says. "Each year our family meets and as a group man the tent at Fed Square. My husband Greg, our eldest son Sam and his wife Sarah, our daughter Bess and her husband Jason and our youngest son Darcy. This year we also have our 7 month old grandson Harvey joining us."
"It is really wonderful and pleasing as a parent that our kids have decided to share with us in committing to work for such a worthwhile cause, devoting their time and efforts in hopefully making a difference to others' lives in the future," she adds. 
The Ashton family approach each year with enthusiasm, excitement and an amazing sense of community – we don't know what the Big Freeze would look like without them! Their beanie sales have become an integral part of the yearly campaign, with their son Sam selling off his own beanie as a now-annual tradition.
"In our first year of selling Beanies, at Fed Square we sold out so Sam, our eldest son (at the crowd's request) auctioned off his own Beanie. This has now become a tradition with Sam always competing to better the sum he received the previous year," says Tracey.
The family has seen the devastating impacts of Motor Neurone Disease first hand, and were motivated to join the fight against MND as a result. 
"I have two personal connections with MND," Tracey says. "My best friend Lou Mckenna, is Lauren Daniher's mother in-law and a friend of mine from University. Mick Rodger passed away from MND in 2010. These personal connections have inspired me to fight and work towards raising funds for a cure."
"MND is such a brutal and cruel disease which until recently hadn't received funds for research, unlike other diseases that have been well supported with funding. Neale Daniher's selfless work in starting this cause and raising an Army is truly inspirational. Witnessing the generosity of the community and also hearing the stories from people of their personal connection to MND is very powerful. These moments are very memorable and it is a real privilege to be part of this."
We're grateful to include people like Tracey in our fight against the beast, and can't wait to see her whole family at Big Freeze 7!
If you're interested in volunteering for FightMND, you can find out more at https://fightmnd.org.au/get-involved/.