To cure,
to care,
to make aware

.
Pull your socks up
Sockit2MND socks on sale now
The Sockit2MND Round is back in 2021 and socks are now on sale. Socks are available for pre-order for only $15 per pair, with all proceeds going directly to funding vital Motor Neurone Disease (MND) research.
So, we are calling all sporting clubs, schools, workplaces and associations to get involved. It's fun, it's community-oriented and it's helping us to fight 'The Beast'. Orders close on April 26, 2021.
Funding boost
Victorian Government commit $1M
For the sixth consecutive year, the Victorian State Government has shown its commitment to FightMND and the fight against MND by making a significant financial contribution in support of the annual Daniher's Drive fundraiser.
On January 19, Premier Daniel Andrews announced $1M of funding support which takes the Andrews Government's total contribution to $3M since 2015.
Honour bestowed
Daniher's Way unveiled at MCG
The Daniher name will forever adorn the famous walk to the home of the Big Freeze following the unveiling of Daniher's Way at the MCG.
The Victorian State Government and the Melbourne Cricket Club joined forces to honour Neale Daniher for his contribution to football, the fight against MND that he has fought so publicly and to the Victorian community by naming the pathway used by millions of sports fans each year, including the FightMND Army every Queen's Birthday holiday for the annual Big Freeze.
Major partner rallies to the cause
Chemist Warehouse boosts the fight
The team and customers of Chemist Warehouse, a major FightMND partner, have raised an amazing $231,000 in the fight against MND.
The funds were raised via an in-store fundraising initiative Australia-wide during the month of October as well as an online silent auction and raffle.
In addition to the above initiative, Chemist Warehouse Mildura store owner Eric Oguzkaya hosted a COVID-safe Big Freeze style event in his hometown on December 12 and raised an incredible $30,398 on the day. Twelve sliders braved the icy pool to raise funds for FightMND, including the Mayor of Mildura, Jason Modica.
Chemist Warehouse is the Naming Rights Partner of our annual Daniher's Drive.
Care Funding
Care funding boost for those living with MND
More Australians living with MND will have access to vital equipment following FightMND's recent 2020 care grants announcement of an additional commitment of $2.1 million.
FightMND has provided this funding direct to MND state associations across Australia to enable the purchase and distribution of equipment and today's announcement takes FightMND's contribution to improving the quality of life of those suffering from MND to $4.58 million since 2017.
What are we fighting for?
We are fighting to beat 'The Beast'
We want a world without Motor Neurone Disease (MND) and it takes an army of people to help achieve this – and we have the FightMND Army on our side.
Our core aims are to generate greater awareness of the disease, to fund world-class research and drug trials to find an effective treatment and ultimately a cure for Motor Neurone Disease and provide assistive care equipment to many Australians fighting the disease.
There is no known cause, limited knowledge of the natural course of the disease, there is no effective treatment and there is no cure.
We call it 'The Beast'. This is why we fight.

$48.45m
Committed to MND research initiatives

$14.32m
committed to 11 Clinical Trials

$16.68m
committed to 17 drug development projects

$4.5m
World-first drug screening platform

$3.06m
Other research grants & initiatives

$2.55m
Sporadic ALS Australian - Genomics Consortium

$2.0m
Precision Medicine Program

$3.74m
committed to 15 IMPACT grants

$1.6m
Research fellowships and scholarships

87c
In every dollar raised committed to research projects & care initiatives
A Cure Can't Wait
$10.68M boost for MND research
FightMND has announced  the commitment of  $10.68M in a major funding boost to MND research as we continue the fight to find effective treatments and a cure for the disease, with 16 individual new research projects with some to begin as early as October this year.
This commitment takes the total funds invested into MND research initiatives by FightMND to $48.45 million since the Foundation began in 2014.
Among the new projects funded are eight IMPACT grants which support projects aimed at improving and accelerating the process of bringing new treatments to Clinical Trials while seven Drug Development projects and one Clinical Trial also feature among the projects funded.
2021 Daniher's Drive - expression of interest
The planning for the 2021 Daniher's Drive is well underway and it promises to be another great fun event so now is the time to register an expression of interest to be involved.
The famous 4-day regional road-trip was unable to go ahead in 2020 due to the restrictions presented by Coronavirus so the organising committee are busy working on making a mends and presenting an event that is one not to be missed.
Details regarding the 2021 Daniher's Drive will be released in due course but places are limited so let us know if you are interested in more information by clicking the button below.
Express your interest here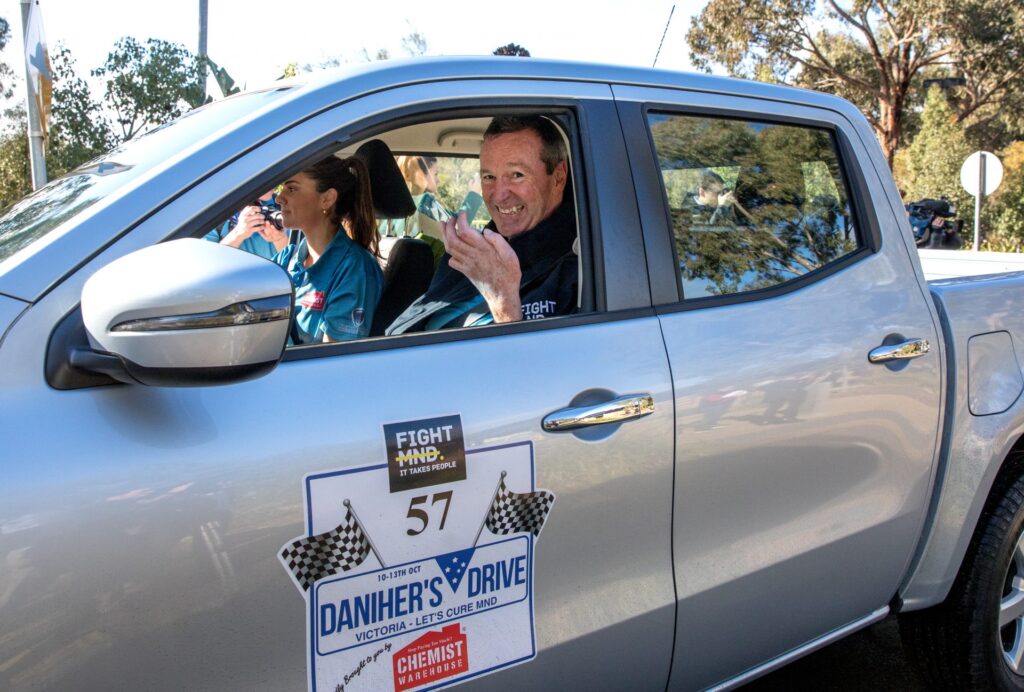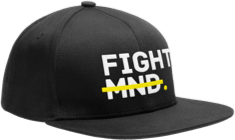 Our Shop
Wear Your Support
Join the fight against MND.
Visit our online shop to browse and purchase some of our FightMND apparel, and in doing so, you are continuing to help our fundraising efforts.
Our MND stories - meet Terry Roles
Tasmanian Terry Roles was diagnosed with MND in 2019 and he shares his story here