To cure,
to care,
to make aware

.
What are we fighting for?
We are fighting to beat 'The Beast'
We want a world without Motor Neurone Disease (MND) and it takes an army of people to help achieve this – and we have the FightMND Army on our side.
Our core aims are to generate greater awareness of the disease, to fund world-class research and drug trials to find an effective treatment and ultimately a cure for Motor Neurone Disease and provide assistive care equipment to many Australians fighting the disease.
There is no known cause, limited knowledge of the natural course of the disease, there is no effective treatment and there is no cure.
We call it 'The Beast'. This is why we fight.

$31.1m
Committed to cure and care

$28.6m
Committed to cure initiatives

$2.5m
Committed to care grants

$6.5m
Big Freeze 4 total
Funding announcement
Federal Government commit $5m to FightMND
The Federal Government has announced a commitment of $5 million to FightMND and the fight against Motor Neurone Disease. The funds from the Government will be invested into further vital research projects as we continue to try to combat 'The Beast'.
Big Freeze 5
Want to volunteer for Big Freeze 5?
Volunteers are the cornerstone of our success and we are asking you to be a part of the work we do, especially for the upcoming Big Freeze 5.
For our biggest annual fundraiser, Big Freeze at the G, we are looking for people to play a number of volunteer roles such as packing beanies, selling beanies and rattling tins to name a few. In 2019, we are selling beanies at more AFL games in Melbourne and interstate so there are more opportunities.
Check out our volunteer agreement and the  opportunities available to get involved via the buttons below.
We look forward to having you on board in 2019 as we continue to fight 'The Beast'.
Resarch funding boost
FightMND commits $7.6m to research
The fight to find effective treatments and a cure for MND has received a significant boost with a multi-million-dollar medical research funding announcement.
As a result of extraordinary fundraising efforts throughout 2018, we are pleased to announce a commitment of $7.6 million to seven new projects, to begin in 2019, taking the total of funds invested into research initiatives to $28.6 million since the Foundation began in 2014.
2019 Daniher's Drive
Register your interest for the 2019 Daniher's Drive
Register your interest and receive more information about the 2019 Daniher's Drive by clicking the button below.
The 2018 Drive raised $2.6million and was a four-day festival of fun and fundraising with over 100 cars forming the long convoy throughout parts of Victoria and South Australia.. The details for 2019 event, including route and costs are still be finalised but now is the time to register your interest if you want to be involved.
July 28, 2019
Run Melbourne 2019
Run Melbourne is more than just a fun-run, it's a way of getting active and fundraising to make a difference.
You can join Team FightMND today and start training and fundraising immediately so make sure you get involved either as a 'Champion Runner' or just a regular entrant.
We look forward to seeing you, maybe as one of our 'champion runners' at the start line.
10 June, 2019
Big Freeze 5
Our fifth installment of 'Big Freeze at the G' will play host to another group of courageous celebrity sliders that take the plunge into the most famous pool of ice at the MCG on the Queen's Birthday holiday in 2019, raising awareness and funds for our fight against MND.
In 2018, we achieved an incredible result, raising over $6.5million for Big Freeze 4.
Big Freeze 5 will be held on June 10, 2019 at the Melbourne Cricket Ground ahead of the annual Queen's Birthday clash between Collingwood and Melbourne Football Clubs.
Daniher patriarch passes away
Vale James (Jim) Daniher
It is with great sadness and heavy hearts that we acknowledge the sudden and sad passing of Jim Daniher.
Jim, the patriarch of the Daniher family passed away at the family farm in Ungarie on Friday, April 12, aged 90.
On behalf of the FightMND family, we send our sincere condolences to the extended Daniher family, especially Jim's wife Edna, his son Neale, our co-founder and Patron and Jim's granddaughters Bec and Georgia, who both work for our Foundation.
May Jim Rest In Peace.
The fight against MND needs you
FightMND - It Takes People.
We have a wonderful FightMND army supporting us and need more to join the army. Our work has just begun, we haven't found an effective treatment or cure as yet.
This is why we fight!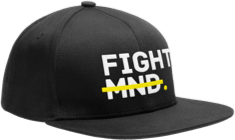 Our Shop
Wear Your Support
Join the fight against MND.
Visit our online shop to browse and purchase some of our FightMND apparel, and in doing so, you are continuing to help our fundraising efforts.