To cure,
to care,
to make aware

.
What are we fighting for?
We are fighting to beat 'The Beast'
We want a world without Motor Neurone Disease (MND) and it takes an army of people to help achieve this – and we have the FightMND Army on our side.
Our core aims are to generate greater awareness of the disease, to fund world-class research and drug trials to find an effective treatment and ultimately a cure for Motor Neurone Disease and provide assistive care equipment to many Australians fighting the disease.
There is no known cause, limited knowledge of the natural course of the disease, there is no effective treatment and there is no cure.
We call it 'The Beast'. This is why we fight.

$23.44m
Committed to cure and care

$20.96m
Committed to cure initiatives

$2.48m
Committed to care grants

$6.68m
Four clinical trials

$6.89m
Seven drug development research grants

$6.51m
Big Freeze 4 total
Raffle - Daniher's Drive
Win a Lexus CT 200h Luxury
The Daniher's Drive Raffle is back for 2018!
FightMND welcome Lexus of Blackburn as the major partner of this year's raffle.
The great team at Lexus of Blackburn have been incredibly generous and donated a brand new Lexus CT 200h Luxury, valued at $50,000 (on-road) as the major prize.
Tickets are $50 each and is drawn on Saturday, October 13, 2018.
11-14th October 2018
Daniher's Drive 2018
The 4th annual Daniher's Drive is set to get rolling on October 11 and will travel through western Victoria, south-eastern South Australia and Victoria's Bellarine Peninsula with overnight, fun-filled stops in Horsham, Mount Gambier and Geelong over 4-days.
Please note that registrations for the 2018 event are closed. Expressions of interest and registrations for the 2019 Daniher's Drive are now open.
Summer 2018/19
SmashMND
With the support of Tennis Australia, and the Australian Open, we are serving it up the debilitating disease and are ready to SmashMND again in 2019.
In 2018, we joined forces for the first time to raise funds for MND and to create greater awareness of 'The Beast' that is Motor Neurone Disease.
The partnership continues in 2019 with full details of how you can be involved to be announced in the coming weeks.
10 June, 2019
Big Freeze 5
Our fifth installment of 'Big Freeze at the G' will play host to another group of courageous celebrity sliders that take the plunge into the most famous pool of ice at the MCG on the Queen's Birthday holiday in 2019, raising awareness and funds for our fight against MND.
In 2018, we achieved an incredible result, raising over $6.5million for Big Freeze 4.
Big Freeze 5 will be held on June 10, 2019 at the Melbourne Cricket Ground ahead of the annual Queen's Birthday clash between Collingwood and Melbourne Football Clubs.
The fight against MND needs you
FightMND - It Takes People.
We have a wonderful FightMND army supporting us and need more to join the army. Our work has just begun, we haven't found an effective treatment or cure as yet.
This is why we fight!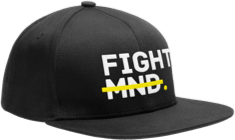 Our Shop
Wear Your Support
Join the fight against MND.
Visit our online shop to browse and purchase some of our FightMND apparel, and in doing so, you are continuing to help our fundraising efforts.