To cure,
to care,
to make aware

.
Christmas Appeal - Lyndal's story
Lyndal Payne has lost five members of her family, including her dad and her sister, through familial MND.
Lyndal has shared her story of heartache after heartache for this year's FightMND Christmas Appeal.
This Christmas bring hope to people like Lyndal and her family in the form of a donation to FightMND. Your support will allow us to continue to fund new research to help put an end to the devastation of 'The Beast', by finding effective treatments and a cure for MND.
What are we fighting for?
We are fighting to beat 'The Beast'
We want a world without Motor Neurone Disease (MND) and it takes an army of people to help achieve this – and we have the FightMND Army on our side.
Our core aims are to generate greater awareness of the disease, to fund world-class research and drug trials to find an effective treatment and ultimately a cure for Motor Neurone Disease and provide assistive care equipment to many Australians fighting the disease.
There is no known cause, limited knowledge of the natural course of the disease, there is no effective treatment and there is no cure.
We call it 'The Beast'. This is why we fight.

$48.45m
Committed to MND research initiatives

$14.32m
committed to 11 Clinical Trials

$16.68m
committed to 17 drug development projects

$4.5m
World-first drug screening platform

$3.06m
Other research grants & initiatives

$2.55m
Sporadic ALS Australian - Genomics Consortium

$2.0m
Precision Medicine Program

$3.74m
committed to 15 IMPACT grants

$1.6m
Research fellowships and scholarships

87c
In every dollar raised committed to research projects & care initiatives
A Cure Can't Wait
$10.68M boost for MND research
FightMND has announced  the commitment of  $10.68M in a major funding boost to MND research as we continue the fight to find effective treatments and a cure for the disease, with 16 individual new research projects with some to begin as early as October this year.
This commitment takes the total funds invested into MND research initiatives by FightMND to $48.45 million since the Foundation began in 2014.
Among the new projects funded are eight IMPACT grants which support projects aimed at improving and accelerating the process of bringing new treatments to Clinical Trials while seven Drug Development projects and one Clinical Trial also feature among the projects funded.
'The Beast' is getting nervous
Big Freeze 6 raises $11.9 million
COVID-19 & MND
As a community, we are facing many challenges because of Coronavirus (COVID-19).
For people living with MND and their families, these are particularly troubling times, with the disease making them one of the more vulnerable populations if exposed to the virus. Our wish is for them to stay safe and well and keep fighting.
MND Australia is closely monitoring the COVID-19 situation, taking advice from medical experts and is providing regular updates & advice to the MND community on its website.
We wish to share that information with you and will also continue to provide updates.
2020 Daniher's Drive cancelled
Sadly, due to the current uncertainty as a result of COVID-19, FightMND has made the difficult and disappointing decision to cancel the 2020 edition of Daniher's Drive.
The famous 'road-trip' won't go ahead in 2020 but the organising committee are already putting plans in place to ensure that the event next year will be bigger and better than ever before.
Details regarding the 2021 Daniher's Drive will be released in due course.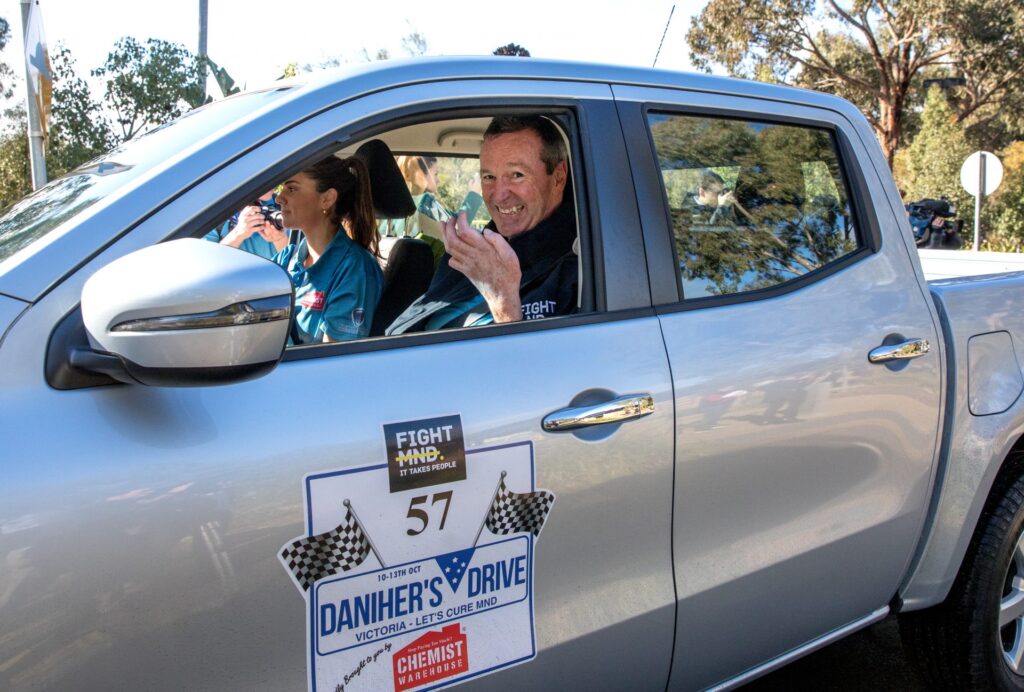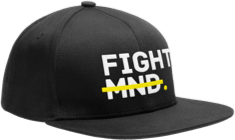 Our Shop
Wear Your Support
Join the fight against MND.
Visit our online shop to browse and purchase some of our FightMND apparel, and in doing so, you are continuing to help our fundraising efforts.
Our MND stories - meet Terry Roles
Tasmanian Terry Roles was diagnosed with MND in 2019 and he shares his story here