To cure,
to care,
to make aware

.
What are we fighting for?
We are fighting to beat 'The Beast'
We want a world without Motor Neurone Disease (MND) and it takes an army of people to help achieve this – and we have the FightMND Army on our side.
Our core aims are to generate greater awareness of the disease, to fund world-class research and drug trials to find an effective treatment and ultimately a cure for Motor Neurone Disease and provide assistive care equipment to many Australians fighting the disease.
There is no known cause, limited knowledge of the natural course of the disease, there is no effective treatment and there is no cure.
We call it 'The Beast'. This is why we fight.

$28.8m
Committed to medical research projects

$4.5m
World first drug screening platform at Florey Institute

$2.45m
Committed to care initiatives

87c
In every dollar raised committed to research projects & care initiatives

9
Large-scale drug development projects funded

7
Large-scale clinical trials funded
Run Melbourne
A beacon of hope
Lauren Healey is running for Team FightMND on Sunday, July 28. She has raised over $32,000 in just over 2 months.
Her father David has MND.
David was advised that when he told his family about his diagnosis to not only give them the bad news, but should also give them some hope. So he told them about FightMND a beacon of hope for him and his family.
Big Freeze 5
Big Freeze 5 at the MCG makes a splash
The fifth annual Big Freeze at the MCG provided more fun, more spills and more lasting memories than ever before.
Retired sporting champions from AFL, cycling, netball and basketball plunged into the icy depths of the Big Freeze 5 ice bath to raise awareness about MND and important funds to fight 'The Beast'.
St. Kilda great Nick Riewoldt stole the stage as Queen's Freddy Mercury while Bob Murphy, Anna Meares, Dane Swan, Chris Judd, Lauren Jackson, Brent Harvey, Bianca Chatfield, Sam Mitchell, Liam Picken, Jimmy Bartel, Brendan Fevola, Jobe Watson & Cyril Rioli didn't disappoint with  their costumes as they took to the famous slide.
Over $5 million was raised during the Big Freeze 5 campaign thanks to the extraordinary support and contribution by the Australian public who bought beanies and generously donated to the fight.
FightMND has committed $28.8 million to MND medical research and will be announcing more research project funding in September.
BIG FREEZE 5
TALLY
$5,131,979.25
Coles partnership
Coles & pork farmers raise $520,000 for FightMND
For the second consecutive year, Coles and its pork producers have joined the fight against MND and together in 2019 raised $520,000 following a national fresh pork sales campaign.
Coles donated 10 cents from the sale of all fresh pork products sold in over 800 supermarkets nationally to help fund more vital research into the disease.
As a result of the incredibly successful campaign, Coles are the largest corporate donor to FightMND.
Thanks to Coles and our Aussie pork farmers
Socking it to MND
SockIt2MND raises over $200,000
With over 200 sporting associations and clubs nation-wide taking part in the 2019 SockIt2MND campaign, FightMND is thrilled to announce a staggering $223,710 was raised from the sale of socks alone.
Football, netball, soccer & basketball clubs and associations – to name just a few – participating in junior and senior competitions purchased the now popular blue socks, displaying the Big Freeze 5 logo, and wore them in matches on our dedicated SockIt2MND Round on June 15 & 16 this year.
FightMND thanks all participants for getting involved, supporting the fight against MND and making the 2019 SockIt2MND campaign our most successful one so far.
July & August
Run for fun & for FightMND
Run Melbourne & Blackmores Sydney Running Festival are our two major fun run events for 2019.
Taking part in either, or both events, is more than just running for fun, it's a way of getting active and fundraising to make a difference for MND.
You can join Team FightMND today and start training and fundraising immediately so make sure you get involved either as a 'Champion Runner' or just a regular entrant.
We look forward to seeing you, maybe as one of our 'champion runners' at the start line.
2019 Daniher's Drive
Register your interest for the 2019 Daniher's Drive
Register your interest and receive more information about the 2019 Daniher's Drive by clicking the button below.
The 2018 Drive raised $2.6million and was a four-day festival of fun and fundraising with over 100 cars forming the long convoy throughout parts of Victoria and South Australia.. The route for the 2019 Daniher's Drive is now confirmed and can be viewed by clicking below so now is the time to register your interest if you want to be involved.
Funding announcement
Federal Government commit $5m to FightMND
The Federal Government has announced a commitment of $5 million to FightMND and the fight against Motor Neurone Disease. The funds from the Government will be invested into further vital research projects as we continue to try to combat 'The Beast'.
Resarch funding boost
FightMND commits $7.6m to research
The fight to find effective treatments and a cure for MND has received a significant boost with a multi-million-dollar medical research funding announcement.
As a result of extraordinary fundraising efforts throughout 2018, we are pleased to announce a commitment of $7.6 million to seven new projects, to begin in 2019, taking the total of funds invested into research initiatives to $28.6 million since the Foundation began in 2014.
The fight against MND needs you
FightMND - It Takes People.
We have a wonderful FightMND army supporting us and need more to join the army. Our work has just begun, we haven't found an effective treatment or cure as yet.
This is why we fight!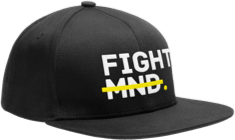 Our Shop
Wear Your Support
Join the fight against MND.
Visit our online shop to browse and purchase some of our FightMND apparel, and in doing so, you are continuing to help our fundraising efforts.
BIG FREEZE 5
TALLY
$5,131,979.25