WHAT ARE WE FIGHTING FOR?
Help us beat the Beast
Your support helped us raise an additional $2 million in just four days!
MND doesn't stop and nor do we. We need to continue to fund the best research to end the suffering of families living with MND.
Please donate above or buy a beanie from Coles, Coles Express or Bunnings. And if you pick up some Aussie Pork from Coles, 10-20 cents from the sale of a whole lot of Coles Aussie Pork products will be donated to FightMND.
Together we can beat the Beast that is MND.
WHAT ARE WE FIGHTING FOR?
The "Play On" Story
This year, we've included the words 'Play On' on the beanies. When faced with adversity we all have the decision to surrender or keep up the fight.
We need you to 'Play On' and keep fighting alongside us as we take on the 'Beast'.
Every beanie purchased counts. Each dollar raised – no matter how small – is a stepping stone to finding a cure, and with your support, we hope to continue this momentum and give those diagnosed hope and something to smile about.
The Very Important Beanie
The Big Freeze beanie is such an important part of the FightMND story. But it is more than just a hat, it's a 'V.I.B', or 'Very Important Beanie'.
By purchasing a beanie you are contributing to a movement that's working to save people's lives. You are joining a community, united not only in wearing our famous blue beanie, but also in its determination to fight back and end the suffering for those living with MND.
Latest Big Freeze 7 News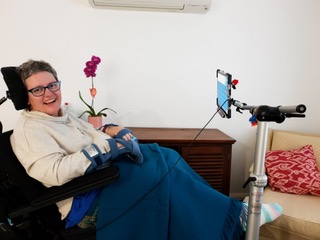 May 26, 2021
It's less lonely when you know Aussies are joining the battle
"Having a chronic disease can be a very lonely experience even if you're surrounded by love and support. It's less lonely when you know lots of effort is going into finding a cure and Aussies are aware and joining the battle" she adds.
Read More
Your Impact
We want a world without Motor Neurone Disease (MND) and it takes an army of people to achieve this. To date, the FightMND Army has helped us fund world-class research and drug trials. With your help, we will continue to 'Play On' toward a cure.

$48.45m
Committed to MND research initiatives

$14.32m
committed to 11 Clinical Trials

$16.68m
committed to 17 drug development projects

$4.5m
World-first drug screening platform

$4.66m
Other research grants & initiatives

$2.55m
Sporadic ALS Australian - Genomics Consortium

$2.0m
Precision Medicine Program

$3.74m
committed to 15 IMPACT grants