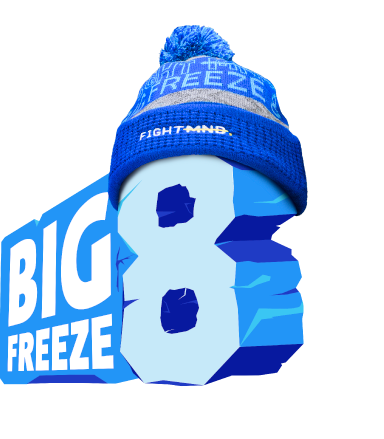 It's time to Beanie On, Play On
Big Freeze beanies now on sale
Get your Big Freeze 8 beanie today!
The Big Freeze beanie is such an important part of the FightMND story. By purchasing a beanie, you are joining a community, united and determined to fight back and find a cure for MND.
Buy your Big Freeze 8 beanie now online, or at Coles, Coles Express and Bunnings stores nationally. 
It's time to Beanie On, Play On
As MND takes away Neale Daniher's ability to be the voice of this fight - it's time to come together, play on and lead this fight - with actions, not words. Watch the video.
EXPRESSIONS OF INTEREST NOW OPEN
Volunteer for the Big Freeze
We are looking for more volunteers right around Australia to help us fundraise as part of the Big Freeze, so that we can continue the fight against Motor Neurone Disease.
If you would like to register your interest to get involved and volunteer for the Big Freeze, please express your interest and we will be in touch.
Now recruiting in VIC, WA, SA, NSW and QLD.
SCAN TO WIN
Win a VIP Big Freeze experience
Scan the QR code on your beanie tag and you could win a money-can't-buy VIP Big Freeze experience for four people.
The prize includes tickets to the Big Freeze match between Collingwood and Melbourne Football Club, a behind-the-scenes visit to the slider hub, two nights' accommodation at Crown Metropol, a merch pack, travel voucher, and loads more.*
freeze your local community
Make a splash and host a DIY Big Freeze
Host a DIY Big Freeze at your sporting club, school, workplace or even in your own backyard. Every dollar counts in the fight against MND, so make your icy plunge as big or as small as you like.
Join in the fun
Pull up your socks and Sockit2MND!
Sockit2MND round (18-19 June) is only a couple of months away – it's time to pull up your socks and join the fight to find a cure for MND. Rally your club, gym, workplace or school to have some fun and get behind this important cause.
Socks are on sale now and come in two styles: footy and crew. Choose the socks that best suit you!
BIG FREEZE FUNDRAISING
Sell beanies and raise vital funds
Want to do more in the fight against MND? You can help sell Big Freeze 8 beanies at your school, sporting club or in your community.
Every dollar raised through the Big Freeze takes us another step closer to finding a cure for MND.
Latest Big Freeze 8 News
May 22, 2022
Vance Joy to warm up crowd at Big Freeze 8
Global music superstar and hometown hero Vance Joy is set to kick off celebrations at the AFL's Big
... Read more »
Read More
Your Impact
Our vision is a world without Motor Neurone Disease (MND) and it takes an army of people to help achieve this. Thanks to our supporters, we have invested more than $55.8 million into research projects and initiatives since we began in 2014.

$55.9M
Committed to MND research initiatives

$14.3M
committed to 12 Clinical Trials

$21.5M
committed to 22 drug development projects

$4.5M
World-first drug screening platform

$3.2M
19 other research grants & initiatives

$2.6M
Sporadic ALS Australian - Genomics Consortium

$2M
Precision Medicine Program

$6.2M
committed to 25 IMPACT grants