To cure,
to care,
to make aware

.
January 2019
Tennis rallies to 'smash' MND
FightMND & Tennis Australia are partnering again in 2019 to raise funds to 'smash' MND and you can show your support.
Simply by purchasing a blue FightMND visor for just $20, either at Melbourne Park on Day 1 of the Australian Open (January 14) or online, you are supporting the fight against MND.
All proceeds from the sale of these visors come direct to FightMND to fund more vital research into finding a treatment and cure for MND as well as and providing assistive care equipmnt for Australian's living with MND.
Let's rally together and smash MND.
Get pedalling
Cycling Cares for FightMND
World champion cyclist Anna Meares knows only too well the horror of Motor Neurone Disease – her coach and friend Gary West lost the battle with 'The Beast' in 2017.
This is why she so generously supports our annual Cycling Cares campaign, a virtual cycling tour across Australia to raise funds for the fight against MND.
Throughout the month of February, thousands of Australians will jump on their bike and pedal as hard and as fast as they can to cover as many kilometres as possible to raise critical funds to further world-class research into a cure.
Get your teams together or just ride solo and start pedalling to fight MND.
In Memory
Vale Dr. Ian Davis
With heavy hearts we regret to advise the sad passing of Dr. Ian Davis, our co-founder and inaugural Chairman, from Motor Neurone Disease on Thursday, November 1.
Ian made a significant contribution to the development and progress of clinical research into finding an effective treatment and cure for MND. He fought the disease with great selflessness and dignity and we are indebted to Ian for his vision, passion and commitment to MND research and his legacy will live on forever.
Fondly remembered, never forgotten.
Rest In Peace Ian
2019 Daniher's Drive
Register now for the 2019 Daniher's Drive
Expressions of interest to be part of the 2019 Daniher's Drive are now open and you can do so by clicking the button below.
The 2018 Drive raised $2.6million and was a four-day festival of fun and fundraising with over 100 cars forming this year's convoy. The details for 2019 event, including route and costs are still be finalised but now is the time to express your  interest.
Places are limited so register today and the FightMND team will be in contact with you.
10 June, 2019
Big Freeze 5
Our fifth installment of 'Big Freeze at the G' will play host to another group of courageous celebrity sliders that take the plunge into the most famous pool of ice at the MCG on the Queen's Birthday holiday in 2019, raising awareness and funds for our fight against MND.
In 2018, we achieved an incredible result, raising over $6.5million for Big Freeze 4.
Big Freeze 5 will be held on June 10, 2019 at the Melbourne Cricket Ground ahead of the annual Queen's Birthday clash between Collingwood and Melbourne Football Clubs.
What are we fighting for?
We are fighting to beat 'The Beast'
We want a world without Motor Neurone Disease (MND) and it takes an army of people to help achieve this – and we have the FightMND Army on our side.
Our core aims are to generate greater awareness of the disease, to fund world-class research and drug trials to find an effective treatment and ultimately a cure for Motor Neurone Disease and provide assistive care equipment to many Australians fighting the disease.
There is no known cause, limited knowledge of the natural course of the disease, there is no effective treatment and there is no cure.
We call it 'The Beast'. This is why we fight.

$23.44m
Committed to cure and care

$20.96m
Committed to cure initiatives

$2.48m
Committed to care grants

$6.68m
Four clinical trials

$6.89m
Seven drug development research projects

$6.51m
Big Freeze 4 total
The fight against MND needs you
FightMND - It Takes People.
We have a wonderful FightMND army supporting us and need more to join the army. Our work has just begun, we haven't found an effective treatment or cure as yet.
This is why we fight!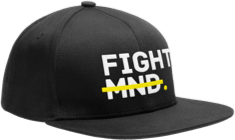 Our Shop
Wear Your Support
Join the fight against MND.
Visit our online shop to browse and purchase some of our FightMND apparel, and in doing so, you are continuing to help our fundraising efforts.