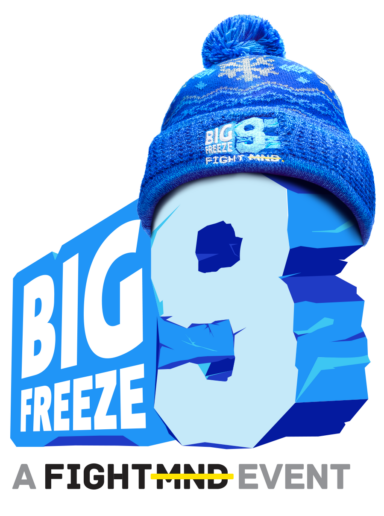 JOIN THE ALL IN FIGHT
JOIN US IN THE ALL IN FIGHT
AGAINST THE BEAST
To FightMND, it's an all in fight. Together, we must join the battle against the Beast that is MND. Now in our ninth year, we're louder and stronger than ever.
Fight for Neale. Fight for those who have fought and continue to fight. Fight for a cure. Don a Big Freeze 9 Beanie and join us. It takes people to beat the Beast.
To FightMND, join the all in fight!
SUPPORT THE CAUSE
Buy Your Big Freeze 9 Beanie
When you wear your Beanie with pride, you're stepping up and fighting for Neale and everyone who has or has had MND.
Every Beanie sold and dollar raised takes us another step closer to finding a cure. It means that we can continue to land solid blows against the Beast, year after year.
You can grab yours online or at Coles, Coles Express, Bunnings NOW. 
You asked, we listened...
Limited Edition: Big Freeze 9 Scarf
This year, we're offering our loyal FightMND Army the first-ever limited edition run of Big Freeze 9 Scarf. Made from 100% premium Australian wool, and generously donated by the wool farmers of Australia.
Scarves are now available in a strictly limited run! Click through to grab one before they sell out!
Don't forget to snap a pic in your new Big Freeze 9 Scarf and share it to socials, tagging @fightmnd and using the hashtags #BigFreeze9 #allinforMND
JOIN THE ALL IN FIGHT
At FightMND, we are driven by a singular and urgent vision - a world free of Motor Neurone Disease (MND).
Through the collective efforts of our community and organisation, we will raise awareness and fund vital research to improve the quality of life and find a cure for those living with MND.
Our purpose is to champion hope and lead the fight against MND.
freeze your local community
Make A Splash And Host A DIY Big Freeze
Host a DIY Big Freeze at your sporting club, school, workplace or even in your own backyard. Every dollar counts in the fight against MND, so make your icy plunge as big or as small as you like.
BIG FREEZE 9 SOCKS
Introducing… Big Freeze 9 Socks!
Sockit2MND has had a makeover. This Big Freeze 9, we're all in to find a cure and fight the Beast. Rally your sports club, pull up a pair of Big Freeze 9 Socks, and host a special game during the Big Freeze 9 Community Round. With styles and sizes to suit all ages and codes, FightMND encourages everyone to get involved.
Latest Big Freeze 9 News
May 16, 2023
Big Freeze 9 goes Interstate!
The Big Freeze 9 is heading West! This June 3rd, we're calling on West Australians to don their
... Read more »
Read More
Your Impact
Our vision is a world without Motor Neurone Disease (MND) and it takes an army of people to help achieve this. Thanks to our supporters, we have invested more than $69 million into research projects and initiatives since we began in 2014.

$69.3M
Committed to MND research initiatives

$17.6M
committed to 14 Clinical Trials

$23.2M
committed to 24 drug development projects

$4.5M
World-first drug screening platform

$10.8M
35 other research grants & initiatives

$2.5M
Sporadic ALS Australian - Genomics Consortium

$2M
Precision Medicine Program

$8.7M
committed to 35 IMPACT grants