$69.3M invested into vital MND research since 2014
Thanks to our supporters, FightMND is now one of the world's largest independent funders of MND research.
By funding the best, high-quality research and connecting the world's most innovative MND minds, FightMND is playing a lead role in the global fight to find a cure for this devastating disease
We work closely with other relevant MND bodies, taking a lead role in new drug development and clinical trials and doing so with a sense of urgency on behalf of all Australians currently fighting MND.
We have now invested more than $69.3 million into research projects and initiatives since we began in 2014.
FightMND invests $13.4M in the fight against MND in 2022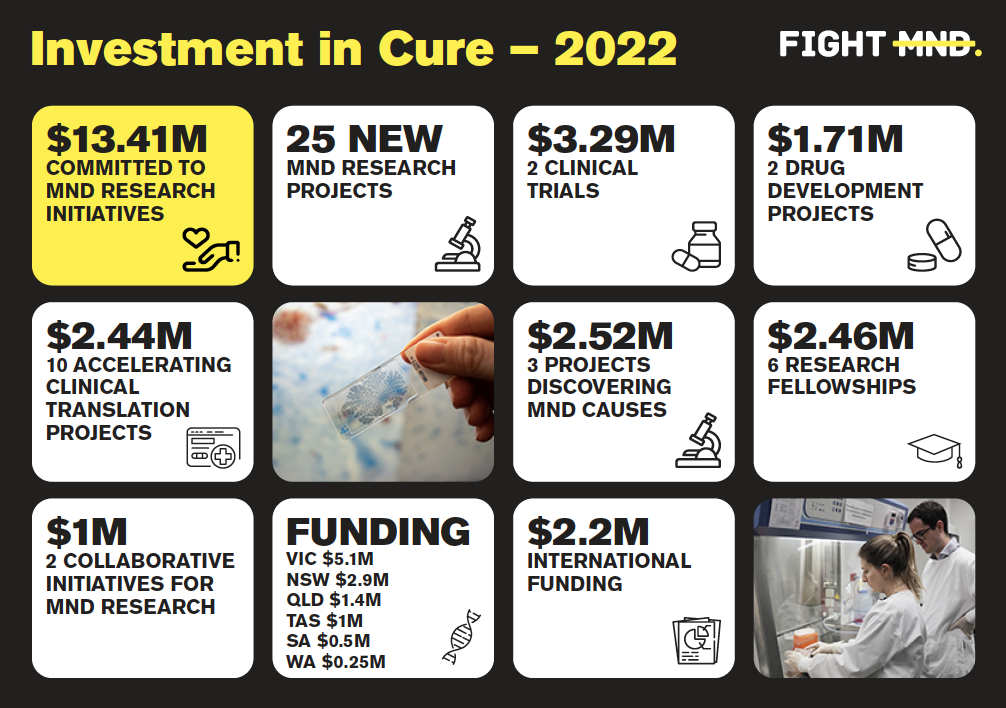 FightMND will invest a further $13.4 million into Motor Neurone Disease (MND) research to find better treatments and a cure.
Of the total $13.4 million investment, $10.9 million will go towards 19 MND research projects including two new clinical trials, two drug development projects, and 15 other research projects aimed at accelerating the development of innovative research and effective therapies for MND.
The remaining $2.5 million will fund six fellowships to support career pathways for outstanding, game-changing researchers in MND both in Australia and across the world. For the first time, three of these International Research Fellowships will be co-funded with the Healey & AMG Centre and ALS Finding a Cure®.
For the full project summaries, click here.
Phase 3 Clinical Trial – Randomised double-blind placebo-controlled Phase 3 trial of Lithium Carbonate in MND, a sub-study of a Multi-arm, Adaptive, Groupsequential trial NETwork to evaluate drug
efficacy in patients with MND (MAGNET).
Professor Matthew Kiernan
The University of Sydney, NSW
Phase 2 Clinical Trial – A placebo-controlled safety and efficacy of ambroxol in individuals with MND,
Associate Professor Bradley Turner
The Florey
The University of Melbourne, VIC
2022 DRUG DEVELOPMENT PROJECTS
Drug Development projects are focused on advancing promising new drugs or therapies through the final stages of testing in preparation for their assessment in clinical trials with MND patients. In 2021, FightMND awarded 5 Drug Development projects.
1. THERAPIES TARGETING MUSCLE
Intramuscular allosteric agonism of purinergic P2X7 receptor as a pharmacological approach to enhance skeletal muscle regeneration in MND
Dr Giovanni Nardo
Mario Negri Institute for Pharmacological
Research, Italy
2. TREATMENTS TARGETING MULTIPLE CAUSES OF MND
Validation of the clinical-stage drug candidate RRx-001 as a novel disease modifying therapeutic for MND.
Dr Tony Reid
EpicentRx, Inc., California, USA
1. GENETIC AND ENVIRONMENTAL INTERACTIONS
Epidemiology in a dish: using human iPSC to discover common and genotype specific molecular signatures of the multistep hypothesis of MND.
Associate Professor Anthony Cook
University of Tasmania, TAS
2. RESCUING THE BLOCKAGE OF CRITICAL FUNCTIONS IN MOTOR NEURONS CAUSED BY GENE DEFECTS
Trouble at the ribosome in C9ORF-72-driven MND
Dr Danny Hatters
The University of Melbourne, VIC
3. CHANGES IN THE FUNCTION OF CELLS IN THE BRAIN AND SPINAL CORD THAT NORMALLY SUPPORT MOTOR NEURON HEALTH
Multiomic interrogation of patient-derived neurotoxic glia
Dr Jeffrey Liddell
The University of Melbourne, VIC
2022 COLLABORATIVE INITIATIVES PROJECTS
1. MND BIOMARKER PROGRAM
Pre-familial and early MND biomarker program
Associate Professor Mary-Louise Rogers
Flinders University, SA
2. MND BRAIN IMAGING INITIATIVE
AMII: Asia-pacific MND Imaging Initiative
Dr Sicong Tu
The University of Sydney, NSW
1. GENE THERAPY/DRUG DELIVERY
Enhanced neuronal delivery, gene targeting and neuroprotection: development of a multimodal drug against MND
Dr Loren Flynn
Murdoch University, WA
2. GENE THERAPIES
Targeted degradation of misfolded TDP-43 as a therapy for MND
Dr Luke McAlary
The University of Wollongong, NSW
3. DISEASE MODELS
Advanced modelling of upper motor neuron MND pathology using human pluripotent stem cells
Professor Clare Parish
The University of Melbourne, VIC
4. DISEASE MODELS
Evaluation of a novel inducible muscle specific TDP-43 mouse model of MND
Professor Aaron Russell
Deakin University, VIC
5. GENE THERAPIES
Therapeutic targeting of TDP-43 through selective reduction of ataxin-2 expression with peptide-conjugated antisense oligonucleotides
Dr Fazel Shabanpoor
The University of Melbourne, VIC
6. PAUL FISHER IMPACT GRANT – DISEASE HETEROGENEITY
RNA-binding proteins involved in the pathogenesis and disease heterogeneity
of sporadic MND
Dr Rachel Tan
The University of Sydney, NSW
7. DISEASE MODELS
Developing a validated C9orf72 mouse model of ALS/FTD using genome editing MND
Associate Professor Bradley Turner
The University of Melbourne, VIC
8. DISEASE MODELS
New viral-mediated TDP-43 mouse models of MND
Dr Adam Walker
The University of Queensland, QLD
9. DISEASE MODELS/DRUG DELIVERY
Development of a human MND Neurovascular Unit model to improve therapeutic translation in drug testing
Associate Professor Anthony White
QIMR Berghofer Medical Research
Institute, QLD
10. DISEASE HETEROGENEITY/DISEASE BIOMARKERS
Profiling monocytes in MND to assess disease progression and heterogeneity
Professor Trent Woodruff
The University of Queensland, QLD
1. BILL GUEST MID-CAREER RESEARCH FELLOWSHIP
The Bill Guest Mid-Career Research Fellowship is named in recognition of the extraordinary contribution of Bill Guest AM, the inaugural Chairman at FightMND.
Dr Adam Walker – Bill Guest Mid-Career Research Fellow
The University of Queensland, QLD
PROJECT:
Clearing TDP-43 pathology for MND therapy
2. MID-CAREER RESEARCH FELLOWSHIP
Dr Rachel Tan
The University of Sydney, NSW
PROJECT:
Reversing TDP-43 pathology and neuronal loss in sporadic MND
3. EARLY CAREER RESEARCH FELLOWSHIP
Dr Taide Wang
The University of Melbourne, VIC
PROJECT:
Therapeutic targeting of ferroptotic cell death in MND
Dr Taide Wang was also the inaugural recipient of the Angie Cunningham Scholarship.
FOR RESEARCHERS – 2023 RESEARCH FUNDING
As the largest independent funder of MND/ALS research in Australia, FightMND's vision is a world without MND. Integral in this vision is our determination to help facilitate the translation of the growing body of new knowledge about the disease into treatments and ultimately a cure for MND/ALS patients internationally. FightMND's 2023 grant round opens on November 3 2022 with funding opportunities for both national and international researchers through a number of research schemes.
2021 DRUG DEVELOPMENT PROJECTS
1. Preventing neuroinflammation in MND by inhibiting the mPTP
A/Prof Seth Masters
(WEHI, VIC)
2. Alpha 5 Beta 1 Integrin as a potential treatment for MND
Prof Lawrence Steinman
(Alpha 5 Integrin LLC, CA, USA)
3. Developing a monoclonal antibody modulating CD38 against MND
Dr Damien Toulorge
(ENCEFA, France)
4. Targeting misfolded proteins with misfoldUbLs as a therapeutic strategy for MND
Prof Justin Yerbury
(University of Wollongong, NSW)
5. Targeting CK1e-mediated TDP-43 Phosphorylation in MND
Dr John Ravits
(University of California – San Diego, CA, USA)
To accelerate the development of effective therapies for MND, FightMND IMProving and ACcelerating Translation (IMPACT) grants support projects focused on overcoming one or more key barriers preventing the advancement of potential treatments through to clinical trial. In 2021, FightMND awarded 10 IMPACT grants to support projects dedicated to accelerating promising research discoveries through to the clinic.
1. Disease biomarkers – Generating a proteomics-based biomarker for MND
Dr Allan McRae
(University of Queensland, QLD)
2. Disease biomarkers – EC-FUS – A novel biomarker for MND examined using a unique antibody
Prof Julie Atkin
(Macquarie University, NSW)
3. Disease biomarkers – The Glymphatic System: A novel biomarker of disease severity in MND
A/Prof David Wright
(Monash University, VIC)
4. Disease heterogeneity – Exploiting cryptic relatedness in global MND to uncover disease- and phenotype-linked genes
Dr Kelly Williams
(Macquarie University, NSW)
5. Disease heterogeneity – Developing a high-throughput system to identify MND risk genes
Dr Fleur Garton
(University of Queensland, QLD)
6. Disease heterogeneity – Identifying novel structural variations in MND genes to improve clinical trial outcomes
Prof P. Anthony Akkari
(Perron Institute for Neurological and Translational Science, WA)
7. Gene therapies – Restoring autoregulation of TDP43 in MND using splice-switching antisense oligonucleotides
A/Prof Lezanne Ooi
(University of Wollongong, NSW)
8. Drug delivery/Gene therapies – Enhancing delivery of gene therapy to motor neurons and glial cells using focused ultrasound
Dr Kara Vine
(University of Wollongong, NSW)
9. Regenerative medicine – Subpial spinal cord delivery as a stem cell-based treatment for MND
A/Prof Lachlan Thompson
(University of Melbourne, Florey, VIC)
10. Disease models – Harnessing phase separation as a preclinical strategy for the treatment of MND
Dr Marco Morsch
(Macquarie University, NSW)