$55.8M invested into vital MND research since 2014
FightMND is Australia's largest independent funder of MND research.
We work closely with other relevant MND bodies, taking a lead role in new drug development and clinical trials and doing so with a sense of urgency on behalf of all Australians currently fighting MND.
Thanks to our supporters, we have invested more than $55.8 million into research projects and initiatives since we began in 2014.
FightMND invests a further $10.7M in the fight against MND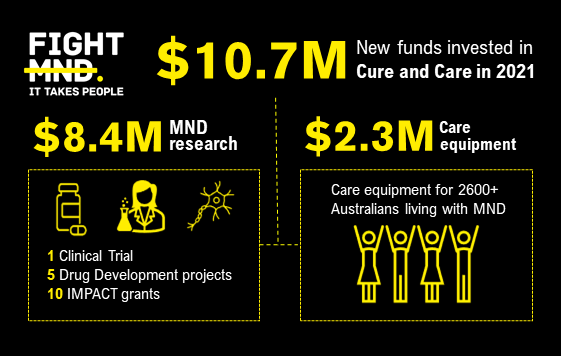 The fight against Motor Neurone Disease (MND) has received a multi-million-dollar boost with FightMND announcing a further $10.7 million investment into research and care equipment for people living with MND.
This major funding commitment takes the total amount the charity has invested into research and care to more than $63 million since it began in 2014.
Of the total $10.7 million investment in 2021, $8.4 million will go towards 16 MND research projects including one clinical trial, five drug development projects and ten IMPACT projects to help accelerate the development of promising research and effective therapies for MND.
Announced at the Big Freeze 7 in Melbourne this year, the Federal Government also pledged an additional $2 million towards an exciting new MND research initiative, which will be finalised in the coming months.
For the full project summaries, click here.
For more information about the announcement, click here. 
Phase 1b – Ephrin receptor A4-Fc (new drug)
Prof Perry Bartlett, AO
The University of Queensland
2021 DRUG DEVELOPMENT PROJECTS
Drug Development projects are focused on advancing promising new drugs or therapies through the final stages of testing in preparation for their assessment in clinical trials with MND patients. In 2021, FightMND awarded 5 Drug Development projects.
1. Preventing neuroinflammation in MND by inhibiting the mPTP
A/Prof Seth Masters
(WEHI, VIC)
2. Alpha 5 Beta 1 Integrin as a potential treatment for MND
Prof Lawrence Steinman
(Alpha 5 Integrin LLC, CA, USA)
3. Developing a monoclonal antibody modulating CD38 against MND
Dr Damien Toulorge
(ENCEFA, France)
4. Targeting misfolded proteins with misfoldUbLs as a therapeutic strategy for MND
Prof Justin Yerbury
(University of Wollongong, NSW)
5. Targeting CK1e-mediated TDP-43 Phosphorylation in MND
Dr John Ravits
(University of California – San Diego, CA, USA)
To accelerate the development of effective therapies for MND, FightMND IMProving and ACcelerating Translation (IMPACT) grants support projects focused on overcoming one or more key barriers preventing the advancement of potential treatments through to clinical trial. In 2021, FightMND awarded 10 IMPACT grants to support projects dedicated to accelerating promising research discoveries through to the clinic.
1. Disease biomarkers – Generating a proteomics-based biomarker for MND
Dr Allan McRae
(University of Queensland, QLD)
2. Disease biomarkers – EC-FUS – A novel biomarker for MND examined using a unique antibody
Prof Julie Atkin
(Macquarie University, NSW)
3. Disease biomarkers – The Glymphatic System: A novel biomarker of disease severity in MND
A/Prof David Wright
(Monash University, VIC)
4. Disease heterogeneity – Exploiting cryptic relatedness in global MND to uncover disease- and phenotype-linked genes
Dr Kelly Williams
(Macquarie University, NSW)
5. Disease heterogeneity – Developing a high-throughput system to identify MND risk genes
Dr Fleur Garton
(University of Queensland, QLD)
6. Disease heterogeneity – Identifying novel structural variations in MND genes to improve clinical trial outcomes
Prof P. Anthony Akkari
(Perron Institute for Neurological and Translational Science, WA)
7. Gene therapies – Restoring autoregulation of TDP43 in MND using splice-switching antisense oligonucleotides
A/Prof Lezanne Ooi
(University of Wollongong, NSW)
8. Drug delivery/Gene therapies – Enhancing delivery of gene therapy to motor neurons and glial cells using focused ultrasound
Dr Kara Vine
(University of Wollongong, NSW)
9. Regenerative medicine – Subpial spinal cord delivery as a stem cell-based treatment for MND
A/Prof Lachlan Thompson
(University of Melbourne, Florey, VIC)
10. Disease models – Harnessing phase separation as a preclinical strategy for the treatment of MND
Dr Marco Morsch
(Macquarie University, NSW)
2022 DISCOVERY RESEARCH GRANTS
FightMND Discovery Grants should be focused on defining the underlying cause/s of MND; and/or understanding the fundamental disease mechanisms that contribute to the progression of the disease in order to more effectively treat MND. Ultimately, outcomes should provide significant advancements in the understanding of MND, and substantially increase the likelihood of an acceleration in the development of more effective treatments or cure for MND.
Discovery Grants aim to support collaborative projects that challenge and advance current paradigms, and/or significantly progress the way that research dedicated to discovering a cure for MND is conducted.
FightMND Discovery Grants are offered up to a value of AUD $1,000,000 in support available for 3-year projects (projects with a period of performance of less than 3-years will also be considered).