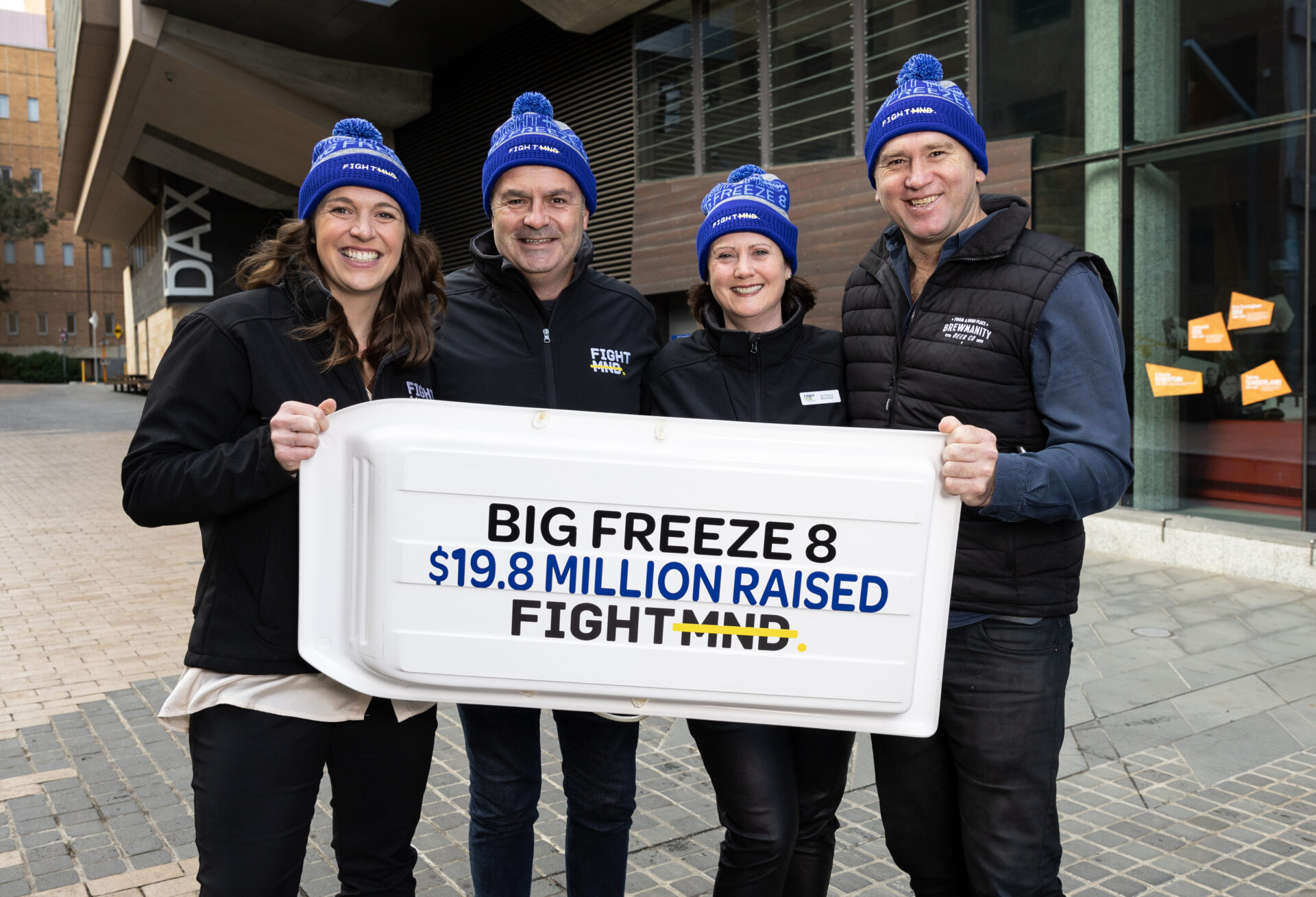 The eighth Big Freeze has broken another record in its fundraising for FightMND, generating $19.8 million for the national charity.
Announced on Global MND Awareness Day 2022, the funds, generated through the sale of Big Freeze beanies, donations and community fundraising efforts will be invested, almost immediately, in vital research to find effective treatments and a cure for Motor Neurone Disease (MND).
This year marked the first time in two years that FightMND's Big Freeze event, including the celebrity ice slide, was held at the MCG on Queen's Birthday Monday, in front of a crowd of nearly 80,000 people.
Local communities, schools and sporting clubs across the country have also been hosting their own DIY Big Freeze fundraising events in support of the cause.
FightMND Campaigns Director Bec Daniher was overwhelmed by the support and ongoing generosity of the Australian public and the wider FightMND Army.
"I can't help but get emotional thinking about the overwhelming support for the Big Freeze. It's remarkable to think how this campaign has been embraced by the entire community and is now raising millions for much-needed MND research," Ms Daniher said.
"From the March to the 'G, to the slide and sea of blue beanies covering every corner of the MCG, Big Freeze 8 was an unforgettable day for so many reasons and to do it all with my dad by side made it even more special."
"Thank you to everyone who supported this campaign. We know that our job is not done until we defeat this Beast, but with every dollar raised, we're taking another step closer to a cure for MND," Ms Daniher added.
FightMND CEO Dr Fiona McIntosh said that FightMND was honoured to be able to make today's Big Freeze 8 fundraising tally announcement on Global MND Awareness Day – further cementing the organisation's position as one of the world's largest independent funders of MND research.
"MND is relentless – it knows no borders and touches every corner of our community. We are extremely proud to announce that Australians have helped raised $19.8 million for the fight against MND on Global MND Awareness Day."
"Research continues to be our best weapon against this Beast. By funding innovative and urgent research both at home and abroad, we're increasing our chances of finding better treatments or a cure sooner," Dr McIntosh said.
"Every day, we are learning more about the disease and how best to fight it. We don't know when the big breakthrough will come, but when it does, every single person who bought a beanie or donated to FightMND can know that they played a part in making it happen."
Since 2014, FightMND has invested $55.9 million in MND research, including 12 clinical trials and 22 drug development projects both in Australia and globally.
As part of the Big Freeze, the Victorian State Government announced a generous $250,000 donation, with the Federal Government also announcing $4 million in funding for FightMND.
AFL Chief Executive Officer Gillon McLachlan said he was thrilled to hear about the generosity of football fans in supporting FightMND and getting behind the Big Freeze.
"It was so inspiring looking out across the MCG at The Big Freeze and seeing close to 80,000 football fans all united with a sea of blue beanies. As a football community, we're incredibly proud of the important work that FightMND continues to do and celebrate this recording-breaking milestone in donations." Mr McLachlan said.
FightMND's partners are integral to the success of the Big Freeze 8, and this year was no different.
Coles Express Executive General Manager Michael Courtney said Coles was delighted to have raised more than $8.5 million in six weeks at Coles supermarkets and Coles Express stores.
"Our team members, customers and Aussie pork farmers are incredibly passionate about raising funds to help find a cure and better treatments for MND and it's now our single biggest fundraising campaign at Coles," Mr Courtney said.
"Through the sale of beanies and Coles' pork, we've raised more funds than ever before and from inner-city Melbourne to Albany in rural Western Australia, our team members have been pulling off their own ice bucket challenges in stores, car parks and support centres."
Bunnings Managing Director Mike Schneider said that Bunnings was humbled to be part of the most successful Big Freeze to date.
"We are really humbled to have played a part in supporting FightMND's biggest and best Big Freeze campaign yet," Mr Schneider said.
"It has been great to see our team and customers passionately get behind fighting the Beast and proudly wearing their beanies throughout the campaign."
"Thank you to everyone that bought a beanie from their local Bunnings and helped us contribute to this important cause, MND is a brutal disease and the incredible amount of funds and awareness raised take FightMND a step closer to finding a cure," Mr Schneider added.
FightMND wants to extend a special thank you to all Big Freeze partners including Coles, Bunnings, the AFL, Federal Government, Victorian State Government, Sportsbet, SEN, the Collingwood Football Club, the Melbourne Football Club, the West Coast Football as well as the wider FightMND Army and volunteers for their tireless support of this year's record-breaking campaign.
Big Freeze 8 beanies are on sale in Coles Express stores until June 29 and Bunnings stores until June 30.