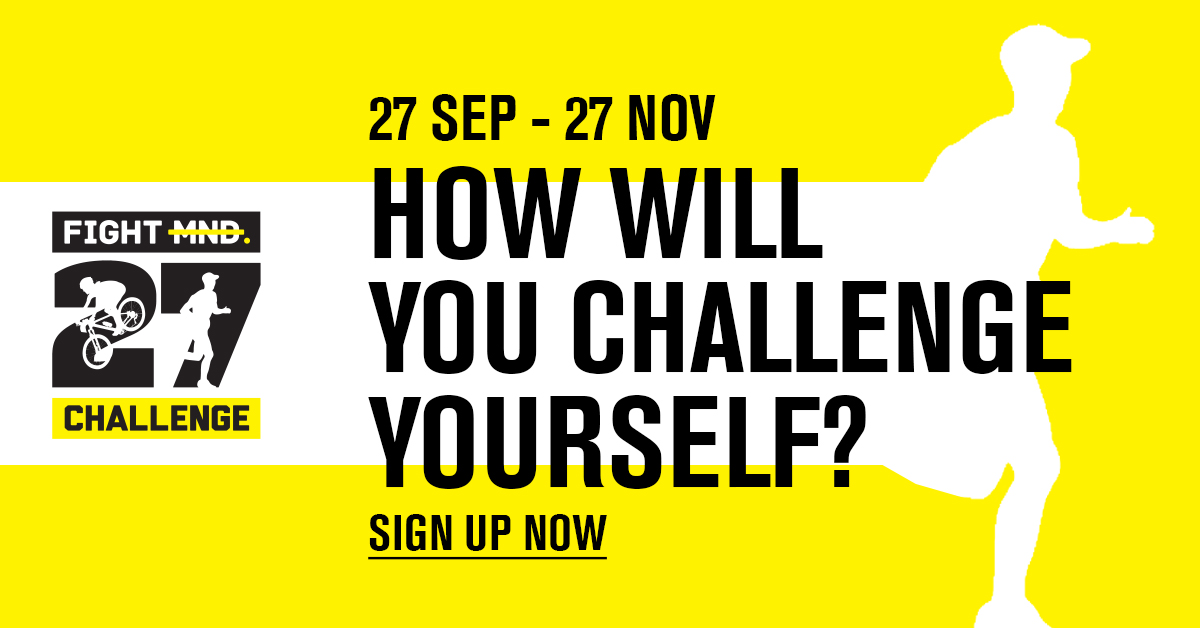 FightMND's newest, national fundraising campaign, the 27 Challenge, is back for a second year and we want you to be part of it.
It's simple. Sign up and set yourself a physical activity goal that incorporates the number 27 and help raise funds for the fight against Motor Neurone Disease (MND).
Why 27? When someone is diagnosed with MND, the average life expectancy is just 27 months. This needs to change.
From the 27 September to 27 November, you can choose to run, walk, bike, jump, swim, or even dance – what, how and where is up to you as long as it embraces the number 27 and gets you active.
27 minutes, 27 days, 27 kilometres, 27 laps, 27 times in a row – there's plenty of ways to get creative and have some fun.
Last year, we had people run 27 hour spin challenges, run 27 kilometres, get active 27 days in a row for 27 minutes, even get 27 buckets of ice dunked on their head.
You can sign up as an individual or rally your friends, family, kids and colleagues to join you.
Spring has sprung and with lockdowns impacting so many of us, what better way to kick off some healthy habits and have some fun – all while raising money for FightMND.
Funds raised through the FIghtMND 27 Challenge go directly towards research to find an effective treatment and cure for MND.
Now all that's left to do is choose your challenge and create a fundraising page.
Don't forget to share your challenge on social media using #27Challenge.
How will you challenge yourself?