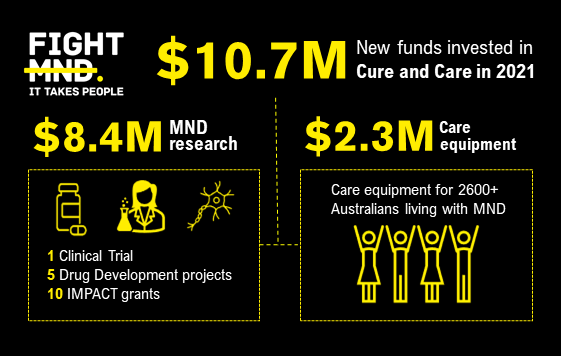 The fight against Motor Neurone Disease (MND) has received a multi-million-dollar boost with FightMND announcing a further $10.7 million investment into research and care equipment for people living with MND.
This major funding commitment takes the total amount the charity has invested into research and care to more than $63 million since it began in 2014.
Of the total $10.7 million investment in 2021, $8.4 million will go towards 16 MND research projects including one clinical trial, five drug development projects and ten IMPACT projects to help accelerate the development of promising research and effective therapies for MND.
Announced at the Big Freeze 7 in Melbourne this year, the Federal Government also pledged an additional $2 million towards an exciting new MND research initiative, which will be finalised in the coming months.
For the full project summaries, click here.
As part of this year's research grant round, FightMND received 47 funding applications, worldwide.
The remaining $2.3 million will go to state-based MND organisations to enable the purchase of essential care equipment such as mobility, communication and respiratory support devices to help improve the lives of those fighting the disease.
More than 2,000 Australians are currently living with MND. With an average life expectancy of 27 months from diagnosis, MND gradually takes away a person's ability to move, speak, eat, swallow and breathe. There is currently no effective treatment or cure.
This year's funding comes largely from community donations and money raised through beanie sales from a record-breaking Big Freeze 7.
FightMND CEO Dr. Fiona McIntosh thanked FightMND's Army of supporters who have continued to support the organisation despite another challenging year impacted by the COVID-19 pandemic.
"This investment would not be possible without the support of our FightMND Army. To our generous donors, major partners, volunteers, supporters and the Federal and Victorian State Governments – thank you for taking up the fight with us."
"Every Big Freeze beanie sold, donation made and time volunteered means that we can continue to land solid blows against the Beast, year after year.
"For those currently fighting the disease, your courage never fails to inspire us. You are the reason why we do what we do," Dr McIntosh said.
Research Director Dr. Bec Sheean said that Australia's MND research capacity and capability continues to grow thanks to the generosity and ongoing support of the Australian public.
"Research takes time but there is growing optimism in the research community because we are starting to see real momentum – every day we are learning more about how to fight the disease," Dr. Sheean said.
"With ongoing support and donations, we are able to make targeted investments in cutting-edge projects focussed on fast-tracking new treatments."
"People living with MND in Australia now have more opportunities to participate in research or clinical trials and more access to care equipment to improve their quality of life."
FightMND would like to acknowledge the generous contribution of the Federal Government and Victorian State Government as well as major partners (Bunnings, Coles, Channel 7, Herald Sun, the AFL and Chemist Warehouse), donors, community fundraisers, volunteers and supporters.
FightMND are more determined than ever to fight back against the Beast, offer hope and end the suffering of those living with MND.
"The fight is not over and the battle will continue until a cure is found. This investment takes us another step closer," Dr McIntosh added.
To support the work of FightMND, please visit fightmnd.org.au/donate
Read the article as it appeared in the Herald Sun – 'Generous Victorians behind FightMND milestone'.
For media enquiries, please contact 0403001644.