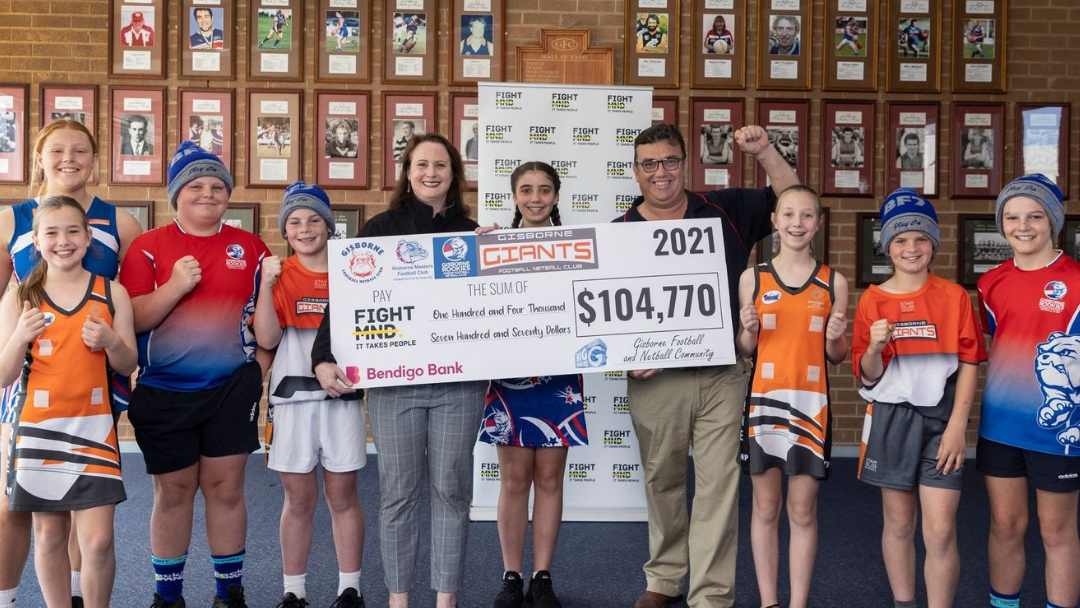 ​​The last few years have been difficult for community sports. With interruptions to competitions and meets, opportunities for fundraising and community outreach have been limited. But one community has managed to pull together and do something incredible.
For the third year in a row, the Gisborne Football Netball Club raised thousands of dollars in the fight against MND. This year, their fundraising efforts reached new heights, raising $104,770 predominately through the sale of Big Freeze beanies and Sockit2MND socks as well as donations. This brings their total fundraising efforts to more than $236,150 in only three years.
Representatives from all four clubs who make up the Gisborne Football Netball Club, along with Essendon Football Club coach Ben Rutten and rising star Harry Jones were on hand as Darren Ponton, Chairman of the Golden Bulldogs Coterie Group presented FightMND CEO Fiona McIntosh with the cheque. 
"Year after year, we are blown away by the support and enthusiasm of the Gisborne Football Netball Club community and cannot thank them enough for their outstanding contribution to the fight against MND in 2021," said Dr. McIntosh.
"Research is expensive and takes time, but with the support of the whole FightMND Army, we are able to make targeted investments in research to find effective treatments and ultimately a cure for MND."
The whole Gisborne community banded together over the cancelled season to make Gisborne Football Netball Club's fundraising goals a reality.
Essendon coach Ben Rutten, whose sons Jack, 13, and Bernie, 11, play for Gisborne, commended the teams' efforts over the last few years.
"Gisborne and the footy and netball club is the heart of the community and brings everyone together and whenever there is a good cause, it's fantastic to see the support that everyone puts in," Rutten told the Herald Sun.
Golden Bulldogs Chairman, Darren Ponton offered his congratulations, commending the efforts of the Gisborne Football and Netball Club, Gisborne Masters Football Club, Gisborne Giants and Gisborne Rookies junior football netball clubs, noting that their 2021 fundraising season had far surpassed the amount raised in the previous two years.
"It could have been even bigger had COVID not put an end to the planned game day which promised so much fun and family engagement – also to wear the beanies and socks with pride and sell even more," Mr Ponton told the Midland Express.
"It's been all about the Gisborne community coming together for a great cause.
"This partnership between the clubs, supporters, sponsors and Fight MND is one that we hope continues to break records each year, whether in adversity or not," the Golden Bulldogs chairman said.
Fiona McIntosh said that the efforts shown by the community of Gisborne demonstrated "the power of footy and netball clubs".
"It means a huge amount, because everything we raise, we do our best to invest in vital MND research as well as people living with MND, and this year we were able to invest $10.7m in research."
Working through the year, and pushing their fundraising efforts to new heights, Ms McIntosh said that Neale Daniher would have been proud that the Gisborne sports clubs had "absolutely played on".
"That was the motto of the Big Freeze campaign, and it's what Neale does every day and it's certainly what these guys did when they insisted on selling beanies during very challenging times," she said.
FightMND would like to once again offer our thanks to the incredible efforts shown by the Gisborne Football Netball Club and their community.