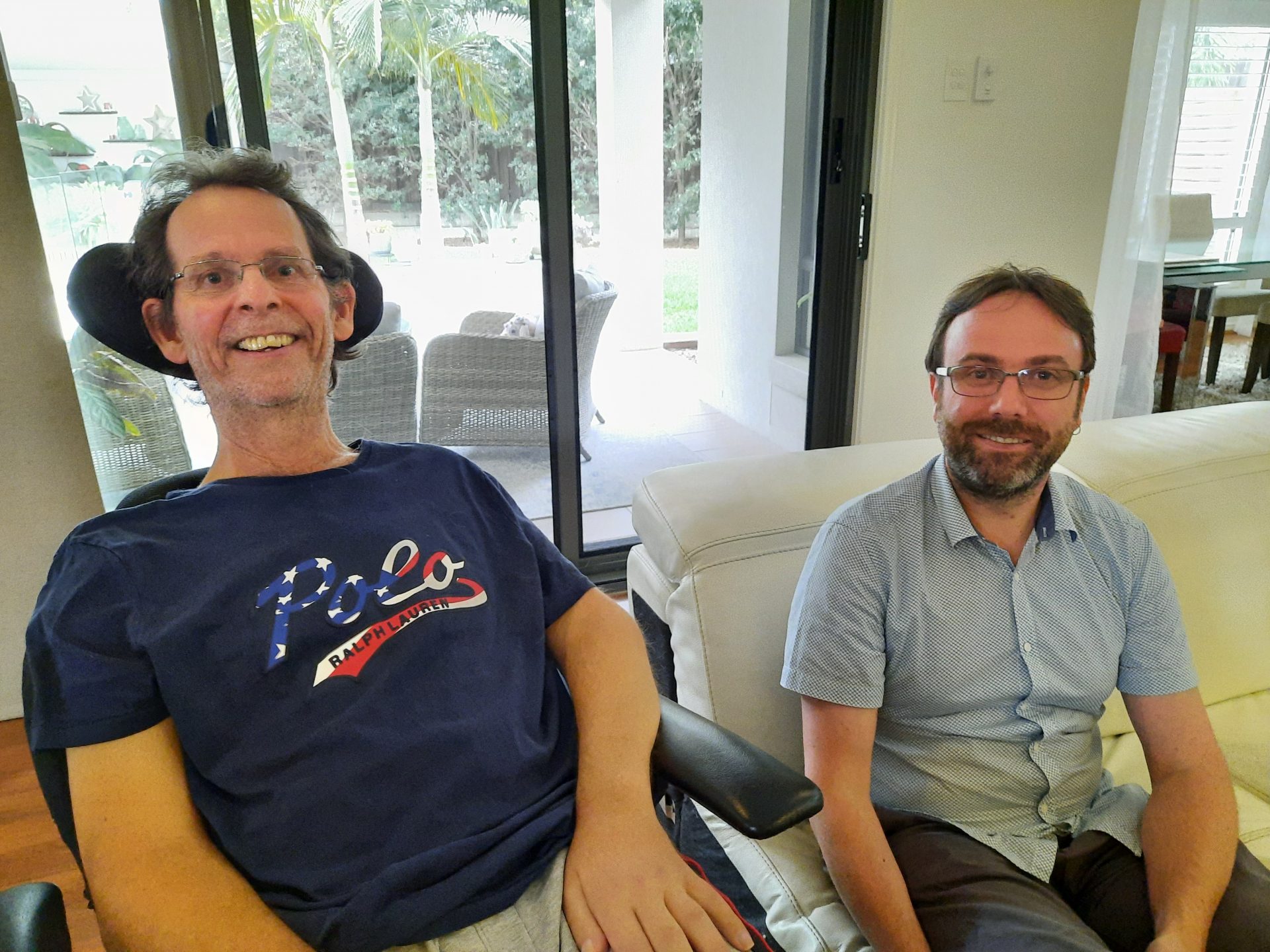 After his mother-in-law was diagnosed with Motor Neurone Disease (MND), Dr Allan McRae began collaborating with researchers in the Sporadic ALS Australia Systems Genomics Consortium (SALSA-SGC).
"I saw firsthand the devastation this disease causes for both the patient and their family and friends," said Dr McRae.
This firsthand experience spurred on his motivation to investigate biomarkers of the disease in the hopes of speeding up diagnosis, monitor disease progression, and to identify potential treatment options.
As part of his research, Dr McRae hopes that by characterising neurological protein levels measured in blood plasma, these proteins may serve as biomarkers, helping to predict disease risk or diagnosis.
"These proteins are generated in the central nervous system and are presumably released into the blood plasma from neurons that are damaged in MND," he says.
"Proteins represent the main layer of information transfer from the genome to disease and represent the largest class of drug targets.
"This means that findings from our study of protein differences have strong potential for identifying new biomarkers for disease diagnosis and progression monitoring, as well as identifying possible drug targets."
Learn more about Dr Allen McRae's project here. 
For over seven years, FightMND has been working to find a cure for MND by funding bold and outstanding research from around Australia and overseas. Dr McRae is one of this year's successful grant recipients, receiving an IMPACT grant, co-funded by FightMND and MND and Me Foundation based in Queensland.
Dr McRae's research project has been awarded $250,000 in honour of Murray Geale, a Queensland man living with MND. The grant was awarded in recognition of Murray's incredible contributions to the research of MND through significant fundraising, awareness-raising and research project and initiative participation. Murray also played a pivotal role on the inaugural MND Research Summit Committee.
Mr Geale said he felt humbled and thankful that the grant was named in his honour and credited much of his impact on MND research to the support of his friends and family.
"The naming of the IMPACT Grant in my honour is a tremendous recognition of the work that my family and friends – particularly my cycling friends – have done when it comes to not only raising much-needed funds for research but also getting the message out to the broader community that MND research is the key to solving the MND riddle and importantly developing effective treatments," Mr Murray said. 
"What excites me about Allan's research is that it may lead to the establishment of an effective disease biomarker which in turn will assist in MND diagnosis and the effectiveness of MND treatments."  
Dr McRae is a first-time funding recipient from FightMND and MND and Me, and it is also the first time his group has received funding to focus on MND specifically, meaning that his group will be able to firmly establish this branch of research into the future.
"Without dedicated funding, we would not be able to analyse sufficient numbers of samples to draw solid conclusions…samples provided by MND patients are a precious resource, and it would be difficult to justify performing this experiment at a smaller scale," Dr McRae said. 
Research like that being conducted by Dr McRae and his team is essential to not only improving the lives of those living with MND and making steps towards eventually finding a cure but offering hope for people living with the disease.
"MND patients go through many emotions. Post-diagnosis, you are told "get your life in order"; you do; then you wait for the disease to advance and steal your life," said Mr Geale.
"However, many living with MND also live in hope and it is this hope that, in my opinion, underpins an MND patients' willingness to participate in promising research and clinical trials… to have hope that there will be a chance that we may live a normal life. Hope is that powerful force that pushes back on despair and we all need hope."
"Researchers are the torch bearers of our hope," Mr Geale added. 
Funding for new research would not be possible with the generous contribution and donations of the FightMND Army. While research is expensive, and it takes time, thanks to ongoing donations, Australia's research capacity and capability continues to grow. Every day we are learning more about how to fight back against the Beast and deliver the knockout blow. 
If you'd like to learn more about this year's successful research grant recipients, please visit fightmnd.org.au/cure/