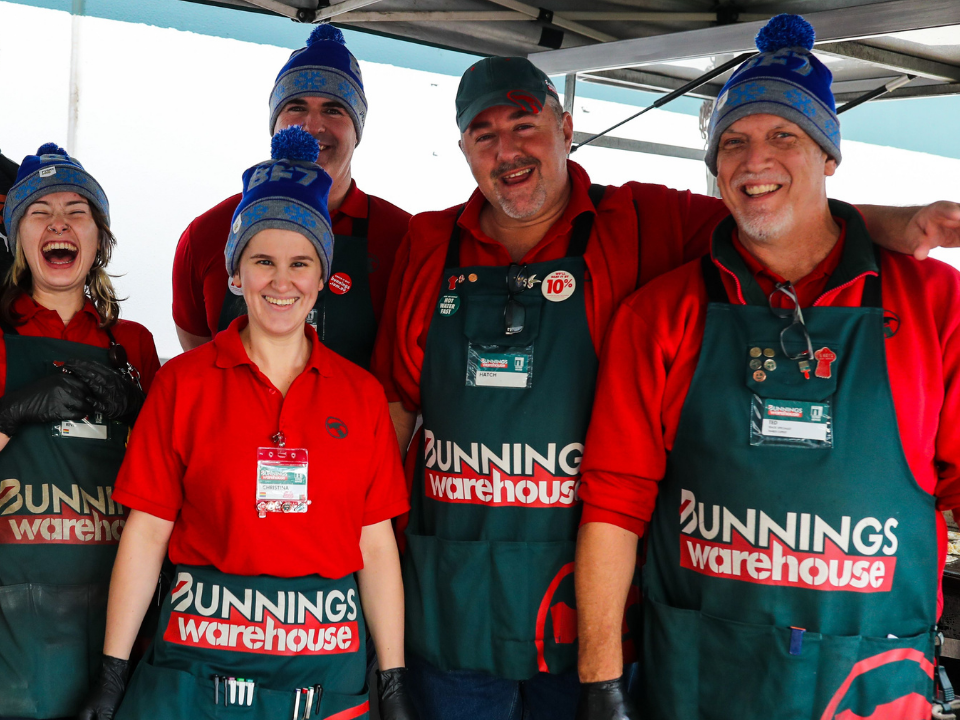 Bunnings, a proud supporter of FightMND since 2019, is hosting a sausage sizzle fundraiser at six selected stores across the country this Saturday 28 May, with all proceeds going towards finding a cure for Motor Neurone Disease (MND).
Between 9am and 4pm on Saturday, drop by a participating* Bunnings store to grab a snag and a Big Freeze 8 beanie to help raise awareness and support the cause, and you might even spot a familiar face behind the barbecue.
Participating Bunnings stores:
Bunnings Box Hill, VIC
Bunnings Alexandria, NSW
Bunnings Stafford, QLD
Bunnings Mile End, SA
Bunnings Glenorchy, TAS
Bunnings Midland, WA
Local Aussie icons from around the country, including the likes of Peter Hitchener and Sam Mac, will be rolling up their sleeves and serving up snags alongside FightMND volunteers at selected Bunnings stores.
Now in its eighth year, FightMND's annual Big Freeze campaign sets out to raise awareness and vital funds to find effective treatments and a cure for MND.
As MND takes away Neale's ability to be the voice of the campaign, this year serves as an emotive and timely call to arms for all Australians to help lead the fight against this Beast of a disease – calling for the FightMND Army to 'Beanie On, Play On.'
Bunnings Director of Operations, Ryan Baker, said that Bunnings is proud to be a part of the FightMND Army for the fourth year running.
"Our team and customers continue to get behind the campaign year after year, and I can't think of a better pairing coming into the colder weather than a snag and FightMND beanie that will help raise important funds in their efforts to find a cure for this heartbreaking disease," Mr Baker said.
FightMND CEO Dr Fiona McIntosh said that FightMND is grateful for the ongoing support of the Australian public in the fight to find effective treatments and a cure for MND.
"We know it will take people to defeat this Beast and it's only thanks to the generosity of our supporters and committed partners like Bunnings, that we are able to make a real impact for people living with MND," Dr McIntosh said.
"Every beanie sold takes us closer to a cure and helps give hope to people with MND – hope that one day, there will be effective treatments or a cure for this Beast of a disease."
"When you put on a Big Freeze beanie, you're stepping up and playing on for Neale and everyone that has been diagnosed with MND," Dr McIntosh said.
Those who want to get behind the cause but can't make it on the day can pick up the Big Freeze 8 beanie at any Bunnings store and trade centre across Australia, from now until Tuesday 21 June 2022, or online.
The Big Freeze 8 Beanies are $25 each and all funds raised will go towards helping to raise awareness and fund research into finding effective treatments and a cure for the beast that is MND.
This year, Bunnings is excited to be committing to a 3-year partnership with FightMND to support the Big Freeze campaign all the way through to 2024. To find out more about Bunnings partnership with FightMND, visit: National Community Support – Bunnings Australia
To purchase the Big Freeze 8 Beanie, visit: FightMND Big Freeze 8 beanie