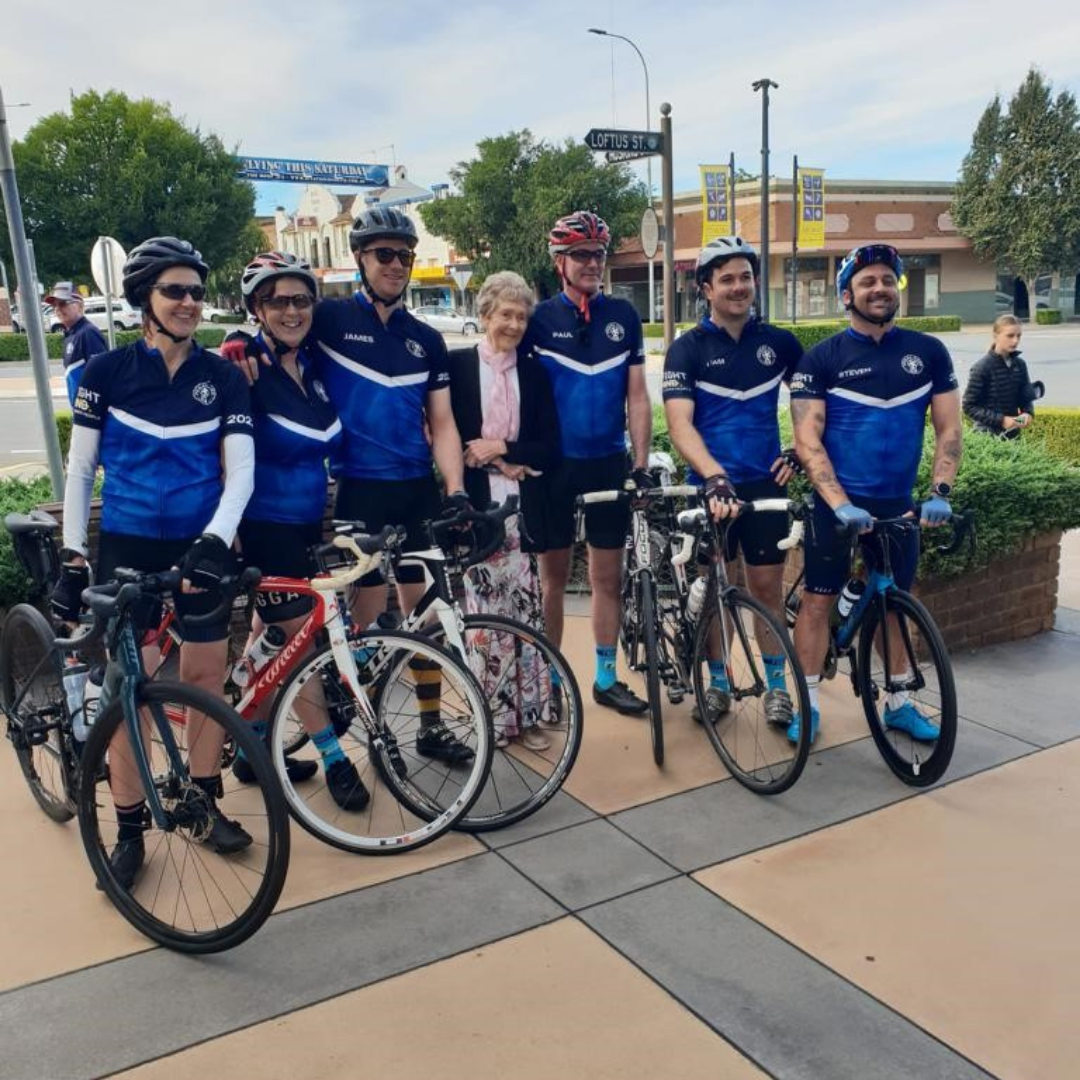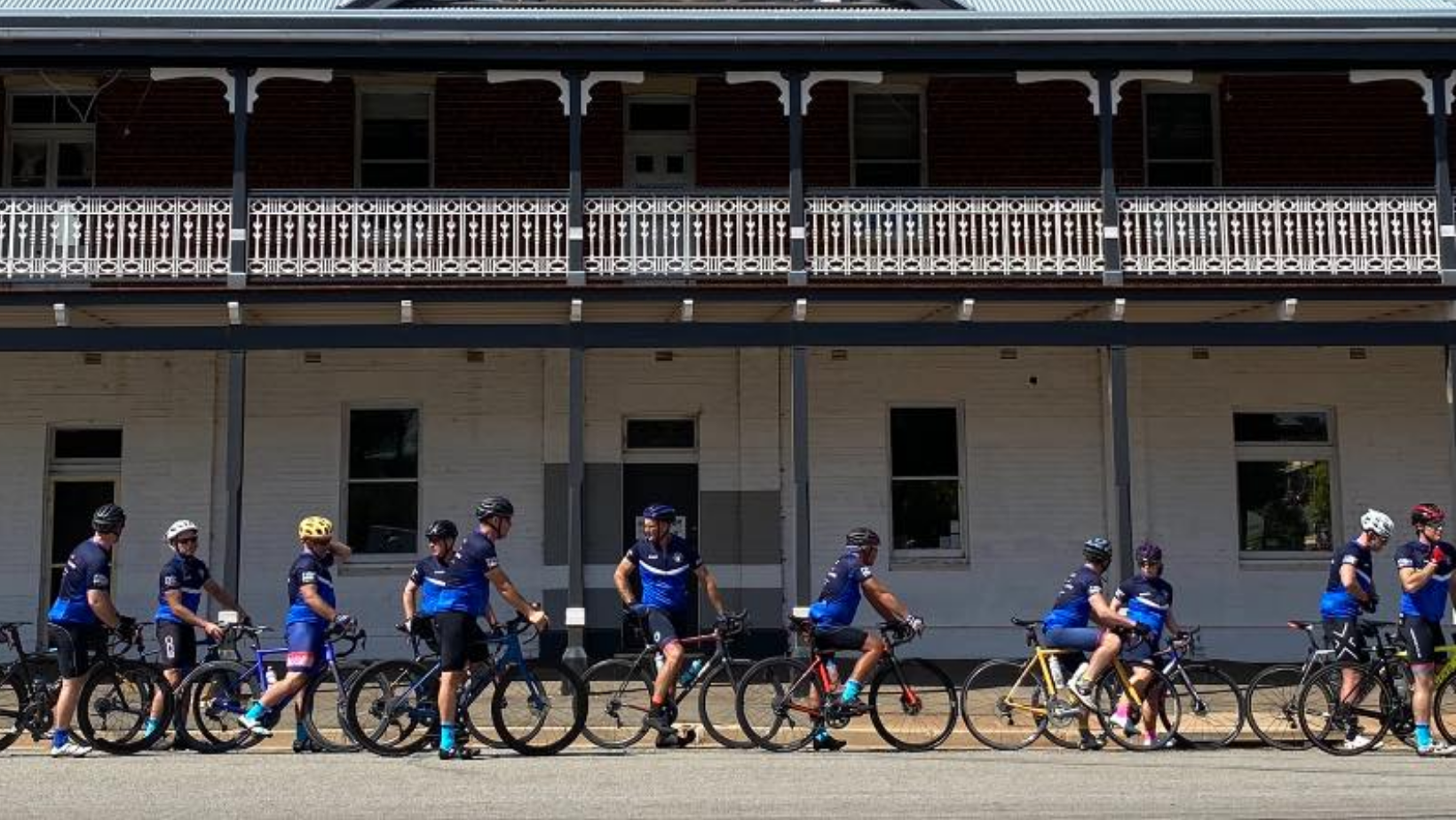 PedalCure4MND has now cemented itself as one of FightMND's largest community fundraisers ever, raising nearly $500,000 for the fight against MND this year.
See PedalCure4MND's live fundraising tally here.
On Saturday 12 March, 94 riders and 20 volunteer support crew rolled into Ariah Park, wrapping up their heroic seven-day, 880 kilometre Riverina cycling challenge.
Starting in Temora on 5 March with an extra special send off from Neale's mum Edna, the route took riders to the towns of Lockhart, Berrigan, Albury, Wagga Wagga, Narrandera, Griffith before celebrations got underway at the finish line in Ariah Park.
Averaging 100 – 138km per day, the ride saw participants cycle from town to town, before camping overnight at local football grounds and enjoying the local hospitality of welcoming regional communities.
More than a bike ride, the event sets out to raise awareness and funds for MND research and care.
At the night events during the ride, participants were joined by members of the local community to celebrate and hear from FightMND's Founder Pat Cunningham, Para-Olympic Gold medallist Scott Reardon, former Australian Opals Basketballer Lauren Jackson, Media legend Jason Richardson and MND Researcher Prof. Aaron Russell.
Organiser and Lockhart local John Fox said, "while the ride is a serious physical challenge, it's worth every effort to help beat MND.
"While it's a big distance to cover on a bike, it's also a very satisfying experience riding with great people all who are trying to help raise funds for MND research," Mr Fox said.
"We had a great support team that lead us along the route and helped keep us fuelled with food and drinks between towns."
Now in its third year, the event which is held every two years has now raised more than $820,000 in total for FightMND.
FightMND CEO Dr. Fiona McIntosh recognised the outstanding efforts of everyone who helped make this event an outstanding success.
"On behalf of everyone at FightMND, I want to extend a heartfelt thank you to Team PedalCure4MND for their ongoing and inspiring commitment, both on and off the bike, to the fight against MND," Dr McIntosh said.
"This year, I'm especially thrilled to congratulate PedalCure4MND on reaching a momentous milestone, raising nearly half-a-million dollars this year alone, taking their total funds raised for MND research and care to more than $820,000."
"The progress being made in research laboratories around the world would not be possible without the support of everyone involved in PedalCure4MND."
FightMND would like  to also personally acknowledge ride organisers Paul Bruest, John Fox and Paul Ansell for their mammoth efforts over the past few years, as well as the local Riverina communities and sponsors and partners including Supra Capital, A2 Milk, Diageo (Bundy Rum), Sureway Employment & Training, Supra Capital, Removed A2 milk again), Matthews IGA Group, Delta Agribusiness, The Famous Australian Sign Company (Albury) and Triple M Riverina.
Rumour has it that ride organisers now have Tassie in their sights for the next ride in 2024… stay tuned.